One of the country's oldest agricultural empowerment projects has won a massive export contract.
South African wine company has secured a one-year contract to export its range of premium wines to China.
Western Cape-based Thandi Wines sealed the deal on the margins of the 19th SIAL China International Trade Fair for Food which was recently held in Shanghai under the theme "Inspire Food Business".
The trade fair is regarded as a leading platform for international producers and manufacturers of food products, wines, spirits and food service equipment to showcase their goods and initiate contacts.
Twenty-three South African agro-processing companies proudly shared with the world their products and services all thanks to the Department of Trade and Industry (dti).
They were able to directly compete for a share of China's lucrative food and beverage market, which is valued at an estimated one trillion Euros.
Over 3 400 exhibitors from Asia, the Americas, Europe and Africa were present.
Vernon Henn, the managing director of Thandi Wines, said that the contract is valued at over R700 000. The first shipment of wine will consist of around 26 000 bottles and a second shipment of similar size will follow later.
"Thereafter, the contract will be renewed on an annual basis," said Henn.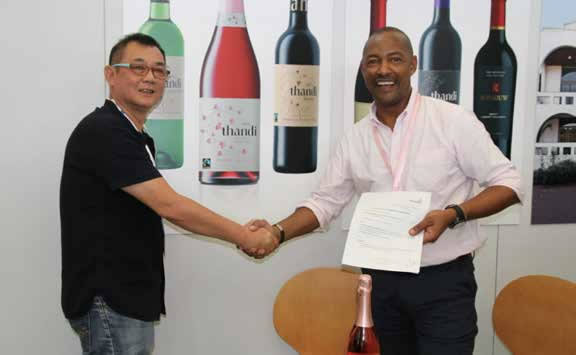 He said their main export destination is Europe which accounts for more than 85 percent of their sales.
"Recently, we started experiencing saturation in Europe and a stagnation in growth. This compelled us to repackage our marketing strategy and explore other markets, in this instance the Asian market," Henn explained.
He said the decision to explore other markets has presented Thandi Wines with some welcomed rewards more especially because the Asian market is growing.
"The main ingredient required is timing and the dti nailed it… The timing is impeccable because people are already looking to make purchases in preparation for the Chinese New Year at the end of February," he said.
Thandi Wines was established in 1995 as South Africa's first agricultural Black Economic Empowerment project. It is owned by 250 farm worker families who hold about 62 percent shares in the company.
The families are involved in almost all the stages of its wine-making processes from working in the vineyards to managing the farm and marketing the wines.