Two Service Warriors per ward can create 44 job opportunities and also improve service delivery.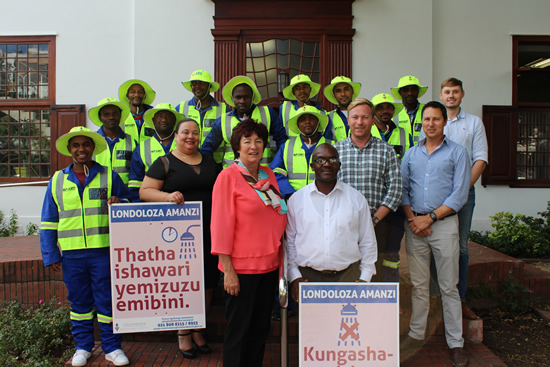 Service delivery problems in the Stellenbosch Local Municipality are being addressed through on-the-ground action by 11 previously unemployed Service Warriors.
In light of the current drought, the municipality identified these community members to undergo plumbing training at the Bergzicht Training Centre to help prevent water losses and wastage.
The municipality realised that once the drought ends, their services would not be needed.
"We decided to expand the scope of the project. These 11 people are now true Service Warriors who identify a variety of problems in the wards, including blocked storm water drains, water leakages, illegal dumpsites and any other defects," explained head of client services at the municipality's Infrastructure Services Department Silvia Pretorius.   
The Service Warriors work in four disadvantaged wards in the municipality – Kayamandi, Klapmuts, Dwarsrivier and Groendal. When they find issues they deliver feedback directly to municipal staff so that the problem can be responded to as quickly as possible.
"They send us lists of issues every day. Many residents do not have phones and don't have the means to travel to our offices themselves to report their complaints. Now they have a better channel of communication with the municipality," said Pretorius.
She said that the four-month pilot project has been successful so far and the hope is that it will be rolled out in all 22 municipal wards.
"With two Service Warriors per ward, we can create 44 job opportunities while also improving our service delivery efforts."
The Service Warriors will soon be even better equipped to carry out their work. The municipality plans to give them tablets which will allow them to report issues, map locations and send photographs.
One of the Service Warriors Elton van Reenen, said that the work is not only helping him make a living but also making him feel like he is doing something useful for his community.
"It is nice to help with the problems that people have had for a long time now. We feel like we are making a difference. The work is rewarding, and it is good to be making some money too," said Van Reenen.
At the launch of the project, Stellenbosch Mayor Gesie van Deventer said that the project is part of Stellenbosch's greater goal of becoming one of the top municipalities in South Africa.