Sport, Arts & Culture
An award-winning  play is the perfect vehicle to get Youth Month dialogue started.
Social categorisations such as race, class and gender, as well as the ideologies of patriarchy and sexism, are currently being tackled head-on in a play titled The Fall.
It reflects on the University of Cape Town's (UCT) #RhodesMustFall movement and is on at the South African State Theatre until 24 June. The play  is the headline production of the theatre's 10th Annual Youth Expression Festival which commemorates Youth Month.
The #RhodesMustFall protest began on 9 March 2015. Within a month, following a UCT Council vote, a statue commemorating Cecil Rhodes, situated at the foot of the university's famous Jameson Steps, was removed.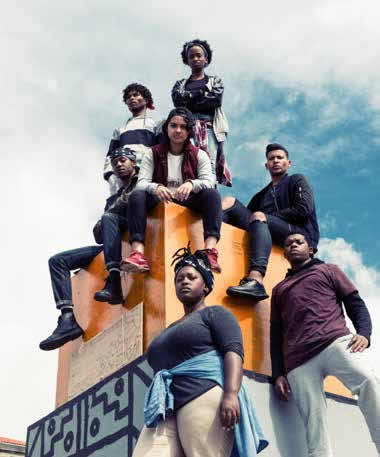 The campaign for the statue's removal led to a wider movement to decolonise education across South Africa which garnered global attention.
Ameera Conrad, one of the writers and a director of The Fall, said the play seeks to unpack discrimination in all its forms.
"It provides a point of reference in terms of what motivated students to act and why they found the Rhodes statue offensive. The play hopes to bridge the generational gap between the current generation's outlook, attitudes and motivations and the older generations' perspective on topical issues such colonisation, sexuality and racial discrimination," Conrad said.
The play also looks back on what gains were made and what developments arose from the students' demonstrations.
It is the brainchild of seven UCT drama graduates who share their personal experiences during the #RhodesMustFall, #FeesMustFall and subsequent student movements that swept through South Africa in 2015 and 2016.
The play has been performed to sold-out success at the Baxter Theatre Centre (two seasons) and recently at the Edinburgh Assembly Fringe Festival in Scotland.
It received the 2017 Fleur du Cap Special Encore Award and most recently the prestigious Scotsman Fringe First and the Stage Acting Award at the Fringe Festival. Along the way, it amassed five-star reviews.
 "The play does not offer solutions to the questions raised by the movements which inspired it but hopes to create and nurture dialogue on intersectional and institutionalised discrimination against the marginalised," Conrad said.
The Fall is a frank collaborative piece of workshop theatre devised by the cast, facilitated by Clare Stopford, and curated by Conrad and Thando Mangcu, two members of the ensemble. The dynamic cast comprises Conrad, Oarabile Ditsele, Tankiso Mamabolo, Sizwesandile Mnisi, Sihle Mnqwazana, Cleo Raatus and Zandile Madliwa.
The play will not be staged elsewhere in Gauteng. It is 80-minutes long with no intervals and a 16 or older age restriction applies.
Tickets can be bought at Computicket for R110, and R100 for students.