International Relations / Africa News
The emerging economies grouping of Brazil, Russia, India, China and South Africa (BRICS) is ready for its 10th summit hosted by South Africa next month.
Minister of International Relations and Cooperation Lindiwe Sisulu believes this year's BRICS summit is a testimony to the co-operation and commitment to implement resolutions taken at previous BRICS summits.
Minister Sisulu was speaking during a meeting of ministers from the BRICS countries, including China's Wang Yi, Russia's Sergey Lavrov, India's Sushma Swaraj and Brazil's Marcos Galvão.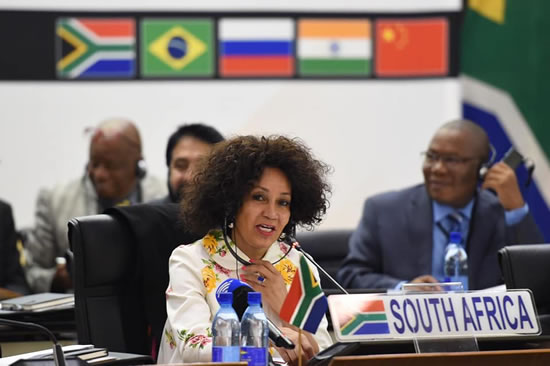 The meeting laid the foundation for the 10th BRICS Summit taking place in July under the theme 'BRICS in Africa: Collaboration with Developing Countries for Inclusive Growth and Shared Prosperity in the 4th Industrial Revolution.
The theme resonates with the core priorities of all BRICS members notably to strive for the creation of an inclusive society and global partnerships that will bring prosperity to all humankind.
The deliberations, which Minister Sisulu described as 'fruitful', reaffirmed BRICS's commitment to the United Nations (UN) as the universal multilateral organisation entrusted with maintaining international peace and security, advancing global development and promoting and protecting human rights.
The ministers committed to intensifying dialogue amongst the BRICS countries on the administration and budget of the UN with a view to strengthening the organisation and preserving its member state-driven character.
Down to business
With regard to economic development they underlined their firm commitment to free trade and the centrality of a rules-based, transparent, non-discriminatory, multilateral trading system (MTS) as embodied in the World Trade Organisation (WTO). This includes opposing the new wave of protectionism and the systematic impact of unilateral measures that are incompatible with WTO rules and undermine global trade and economic growth.
In this regard they re-iterated that the WTO Dispute Settlement System is a cornerstone of the MTS as it is designed to enhance security and predictability in international trade.