The South African Nuclear Energy Corporation SOC Ltd (Necsa) houses the country's only nuclear research reactor which is the largest producer of a range of medical isotopes that are used for diagnosing and treating cancer.
Before the nuclear research reactor starts its 30-day cycle, Linina Bedhesi is entrusted with the job of performing calculations to ensure that the system operates safely.
The 27-year-old is a reactor analyst at Necsa and her job entails using calculation codes to do safety analysis for the reactor's core.
She performs heat and spent fuel calculations for the South African Fundamental Atomic Research Installation 1 (SAFARI-1).
SAFARI-1 is a 20 megawatt tank-in-pool type material testing nuclear research reactor. It is owned and operated by Necsa and located at Pelindaba 30 kilometres west of Pretoria.
Benefits of medical isotopes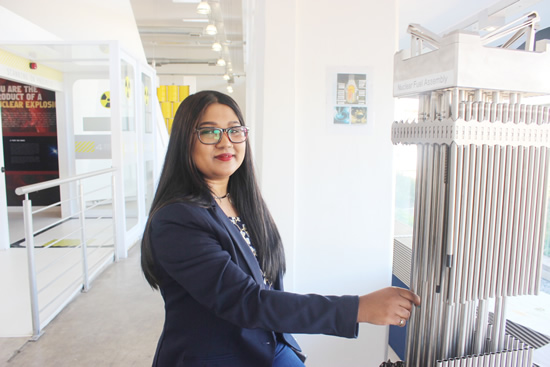 Millions of people have benefited from the medical isotopes originating from SAFARI-1.
An isotope is a chemical element used to diagnose and treat cancer.
 Patients in South Africa and internationally are treated with typical radioisotopes.
For the isotopes to be produced and for SAFARI-1 to keep running, Bedhesi performs core-follow calculations to establish the amount of fuel burnt during the reactor's cycle. Without these calculations the reactor cannot start.
"Heating calculations are important for the safety of the reactor. We need to know the amount of heat released per fission reaction and the spatial distribution of heat so that we can implement cooling in high temperature regions," she explained.
"If we know that we can implement cooling in the reactor. And this is one of the biggest safety calculations that is needed," she added.
For spent fuel calculations Bedhesi uses a calculational computer code to calculate the amount of uranium and plutonium in a spent fuel assembly for storage purposes.
Other scientists or technicians who do operational work at SAFARI-1 send Bedhesi data about the cycle under operation.
If any safety parameter is not met, it will compromise the safety of the reactor and the process cannot be initialised if Bedhesi tells the scientists at SAFARI-1 that it is not safe.
She works with three colleagues who perform the same calculations to ensure that no mistakes are made and that there is consistency.
Living her dream
Bedhesi was appointed as a reactor analyst at Necsa in August 2017 and it is already a job that is close to her heart.
She holds an undergraduate degree in Nuclear Science and Engineering from the University of Witwatersrand (Wits). Bedhesi also has an Honours Degree in Physics from Wits and is in the process of obtaining an MSc (Physics). Prior to enrolling at Wits, she had a scholarship to study biology in India.
A couple of years ago she found herself reading a brochure on BSc Nuclear Science and Engineering.
"While reading the brochure, I found myself more interested in the nuclear sciences. I think it is because my parents had a history of cancer. It was just an emotional journey for me," she said.
Determined to succeed
"I registered for this course. I saw a picture of SAFARI-1 in the brochure and told myself that one day I will work at Necsa. At the end of my second year of study I contacted Necsa's human resource section and asked if I could do vacation work and I was granted the opportunity. That is how my journey began in December 2013," she said.
When her peers went home for school holidays, Bedhesi made her way to Necsa to gain work experience.
"I also did my Honours project at Necsa, and am continuing with my Masters work here as well," she said.
She said there is a huge gap of knowledge between her seniors and the juniors in the field which needs to be filled.
"There are many people in the late years of their careers and there are very young people. There is also a lack of skills," she said.
However, Bedhesi said the nuclear science field is very rewarding and her hard work pays off. She gets to attend international conferences and to present her work to people from across the globe.
"During my time at Necsa, I have obtained two awards at the South African Institute of Physics Conference for my MSc work. I also received two postgraduate merit awards from Wits University. My work is extremely exciting, and I enjoy the challenges that come with it," she said.
What is most exciting for her is that a female scientist is given the same opportunity as males in the science field, although she feels that science is still very much male-dominated globally.