Melusi Yende is the one millionth man to undergo male medical circumcision in KwaZulu-Natal as part of a massive campaign to encourage men to get circumcised.
Male medical circumcision (MMC) reduces the chances of being infected by HIV and Aids and sexually transmitted infections.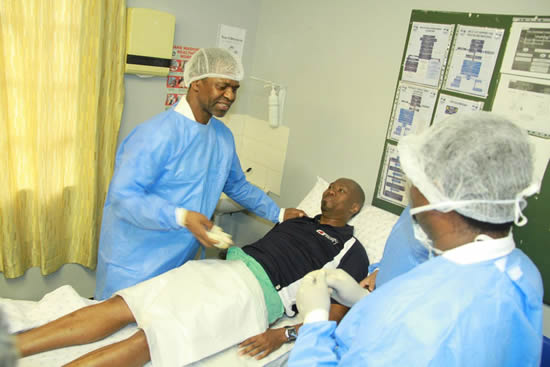 Speaking to Vuk'uzenzele Yende encouraged men to get circumcised.
"I am a proud KwaZulu-Natal son. I wanted to use my profile to speak to men in the province and educate them about the health benefits of being circumcised. Today is a very proud day for me," said Yende.
The event which was held at Sivananda Clinic at Ohlange in Inanda, Durban, was part of the celebration of the success of the (MMC) programme in the province.
Yende is a well-known actor who has appeared in television programmes such as Generations, Muvhango and Rhythm City.
He said that he was happy to be the one millionth man to be circumcised.
"I am hoping that this initiative will encourage other men to go to their nearest clinic to get circumcised. I want people to know that if I can do it so can they. I am encouraging men in KwaZulu-Natal to ensure two million men get circumcised."
Yende added that going under the knife and being circumcised by the KwaZulu-Natal Health MEC Dr Sibongiseni Dlomo was nerve wrecking and exciting.
"I had mixed emotions about being circumcised. I was nervous and excited but MEC Dhlomo was professional and he let me know what was going to happen. Everything was fine the procedure only took about 15 minutes."
MEC Dlomo said having one million men circumcised in his province was a good story to tell.
"It is not just the process of circumcising that is an issue it is the period that comes after and the benefits for men who are circumcised … We are informed by researchers that there is a protection of up to 60 percent, this is not 100 percent which means you must use a condom over and above being circumcised."
The MMC programme works in combination with condoms and other prevention strategies.
Isilo Samabandla namaKhosi King Goodwill Zwelithini leads the MMC campaign in the province. 
Did you know?
Getting circumcised medically is the right thing to do for your health as it:
Improves hygiene and reduces the risk of sexually transmitted infections (STIs) such as chancroid, syphilis, genital warts and herpes.
Reduces the risk of HIV infection as it decreases tearing and bruising that can be an entry point for HIV.