The Mngomezulu sisters Thandi and Neli from Molweni in Durban KwaZulu-Natal are members of different political parties but are able to live in harmony.
Thandi is a dedicated  National Freedom Party (NFP) card carrying member while Neli is a passionate ANC (African National Congress) member.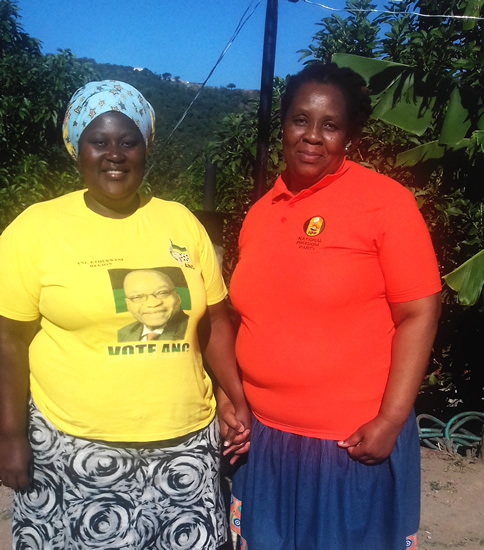 Neli told Vuk'uzenzele that irrespective of their political differences they are still sisters.
"We have respect for one another. When I left NFP to join ANC in 2014 I told my sister that I have taken a decision to be an ANC member. My sister didn't label me as her enemy  she respected my decision."
"If she cooks she dishes for everyone at home including me. We do all things that the family does together. Our political differences here at home and the way we treat each other has helped me learn how to treat other people from different political parties," Neli said.
Neli adds that when she comes across people who do not share the same political ideologies she does not see them as an enemy.
In recent months the KwaZulu-Natal province has been experiencing alleged political killings with ANC activist Musawenkosi Mchunu and Inkhatha Freedom Party (IFP) councilor Sibuyiselo Dlamini being shot dead in separate incidents.
After these incidents President Cyril Ramaphosa instructed Police Minister Bheki Cele, State Security Minister Dipuo Letsatsi-Duba, Justice Minister Michael Masutha, National Prosecuting Authority head Shaun Abrahams and National Police Commissioner Khehla Sithole to work as a committee to solve the suspected political killing in the province.
Neli strongly condemned the supposed political killing saying that it was taking her province to the apartheid era where the ANC and the IFP were fighting which led to loss of lives.
"We do not want to see that happening again. People need to accept each other's political differences.  We cannot claim that we are free when we are still killing one another," Neli said.     
Thandi said enough is enough and stressed that people should stop killing each other. 
"In politics there might be hot debate from time to time but it does not mean we should kill each other. Our leaders in parliament debate and argue but once outside they share jokes. We should learn from them," she said.
Minister Cele said the committee appointed by President Ramaphosa is awaiting the final report from the Moerane Commission of inquiry which was established by Premier Willies Mchunu in 2016 to investigate political violence in KwaZulu-Natal.