Written by Hlengiwe Ngobese
Ithala winner's rags to riches story is a tale that every struggling youngster needs to hear.
Phumlani Ngwenya's entrepreneurial spirit started as flicker of light and today is a beacon of inspiration sending out a bright message that great things can come from small beginnings.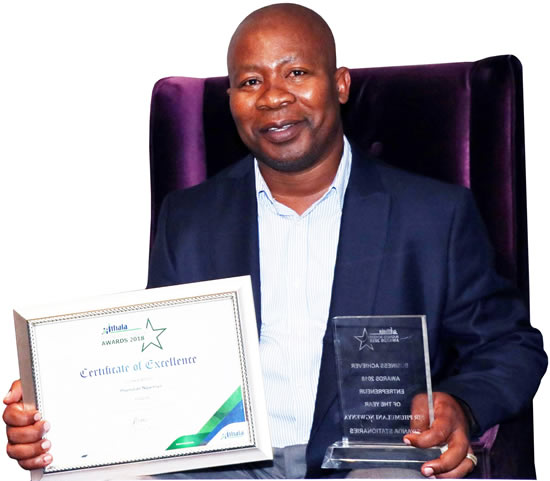 Needing to help his mother make ends meet he started selling boiled eggs and sweet potatoes after school to patients queuing outside a local doctor's surgery. He progressed to selling paw-paws near a petrol station and was soon offered a part-time job as a petrol attendant. An opportunity to study later came his way and he qualified as a teacher.
His can-do attitude and willingness to work hard saw him climb the ladder to economic emancipation and today Ngwenya is a respected businessman who provides employment to 171 people.
This year, he was the overall winner of Ithala's Business Achievers Award. He won R100 000 which he plans on putting back into his business.
An emerging property mogul, Ngwenya owns a guest house and two hotels – Crocodile Creek, Magudu Inn and Kwalala Lodge – in Pongola, Zululand. His property portfolio includes six other commercial properties in various KwaZulu-Natal towns. These are leased to a variety of government departments. 
His next project is a five-star hotel in Durban.
In 1999 he used his savings to build a four-bedroomed house which he intended to sell at a profit. Realising there was a demand for accommodation in Pongola however, he changed his mind and opened the area's first B&B.
For the next year or two he struggled to keep his guest house full. Strange as it may seem it was a disease that put him on the map. When a cholera outbreak struck in 2002, there was suddenly a big demand for accommodation for nurses from other provinces. He was able to expand the lodge's number of beds.
Ngwenya was suddenly being noticed. A tourism award enabled him to travel to the World Travel Market in London, a key international trade show, where he promoted a package put together with local community members. It included a township tour, traditional Zulu dancers, consultations with a sangoma and local school tours.
Soon he was ready to expand his portfolio but was unable to secure funding from commercial banks. He approached Ithala and his loan was approved within a month, setting in motion his rise to the top.
Ngwenya is inspired by hotel legend Sol Kerzner who, like Ngwenya, started out small but became a household name.