Written by Noluthando Mkhize
For Sphume Ndlovu, the excitement of passing matric in 2004 was dampened by the knowledge that he did not have money to study further.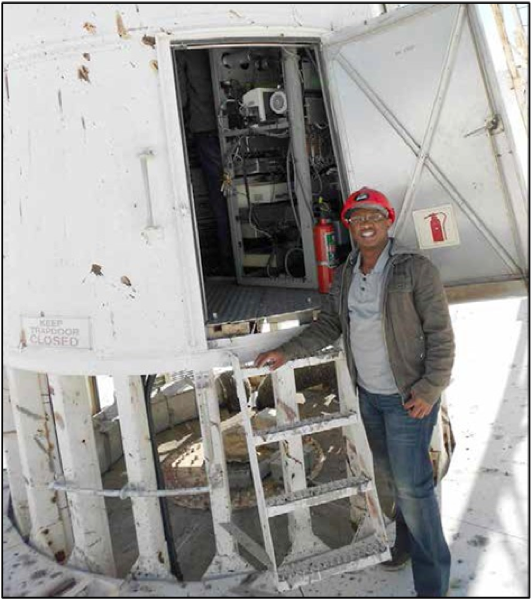 Raised by a single mother who sold chickens in Landskop Pietermaritzburg for a living, tertiary education appeared out of reach for him.
Although he had a distinction in Mathematics plus some Cs and Ds for other subjects, which included physical science, biology and accounting, Ndlovu spent 2005 idling at home.
It was only with financial aid from the University of KwaZulu-Natal and National Student Financial Aid Scheme of South Africa (NSFAS) that Ndlovu managed to study for his Bachelor of Science, majoring in Applied Mathematics and Physics. Today, the 26-year-old PhD student is a Researcher at the Hartebeesthoek Radio Astronomy Observatory (HartRAO) located west of Johannesburg.
"I always thought that if you wanted to go to university your family needed to have money or get a bursary. I was not aware that there was something called NSFAS"
With more students from disadvantaged backgrounds, like Ndlovu, managing to access tertiary education, the number of graduates has increased significantly in recent years.
Addressing Parliament, Minister of Higher Education Blade Nzimande said the number of Engineering Sciences graduates had increased from 8424 in 2009 to 9387 in 2011, Natural and Physical Science graduates increased from 3468 in 2009 to 5526 in 2011, Human and Animal Science graduates increased from 7341 in 2009 to 8070 in 2011 and graduates in teacher education were up from 6315 in 2009 to 10361 in 2011.
"Data for 2011 indicates that in all scarce skills fields, African and female graduates were more than 50 per cent except in Engineering Sciences where female graduates were 26 per cent," Minister Nzimande said.
A survey conducted by the South African Institute for Race Relations and published in 2012 indicates that the number of students enrolled at universities and universities of technology increased from 570 000 in 1995 to 886 633 in 2010, with the number of African students doubling – from 286 000 to 595 777 over the same period.
Before the demise of apartheid, black students were not allowed to study at established universities because of the 1959 Extension of University Education Act, except with the special permission of the education minister. Minister Nzimande said his department had introduced numerous strategies to improve graduate output in scarce skills areas. The Department of Higher Education plans to increase the number of students in tertiary institutions from the current level of 900 000 to 1.5 million by 2030. It has developed a number of strategies to enable more learners to enroll at tertiary institutions and to increase the capacity of these institutions.
NSFAS progress
In his Budget Vote speech, Minister Nzimande said NSFAS has been allocated R5.7 billion to give bursaries and loans to students at universities and at Further Education and Training colleges this year. According to the Minister, NSFAS has assisted 1.4 million students since 1991.
Ndlovu is grateful to NSFAS and the government for helping him pursue his education. "NSFAS works, I am very happy about my success."