Written by Samona Murugan
"The feeling I get from seeing an elderly person being able to read for the fi time, is indescribable. This is the reason why I became a teacher," says Ntombozi Mabhe.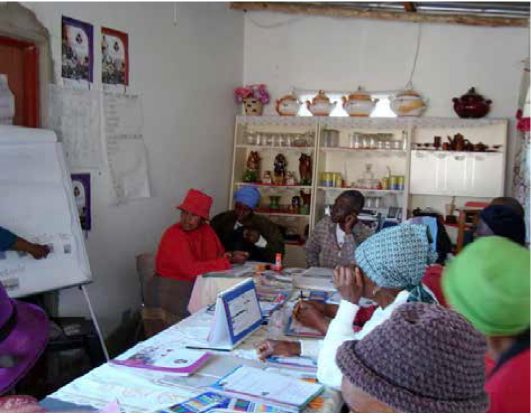 Mabhe is a volunteer educator, working with adult learners in the Qumbu District of the Eastern Cape as part of the Kha ri Gude programme.
"Seeing the joy on their faces as they attend school for the first time, is priceless. They are now able to read, write and count, giving them a newfound sense of freedom to be able to read their bibles and use their cellphones. I am proud to have contributed to this," adds Mabhe.
Until recently, the adult learners in Mabhe's class could not read or write because they had never been to school. It is only now, that they are parents or grandparents, that the Kha ri Gude programme has offered them the chance to go to school for the fi time, proving that you are never too old to learn to read and write.
The Kha ri Gude campaign run by the Department of Basic Education has made it possible for them to discover the joys of reading. Since 2008, more than 2.9 million adult learners across the country have gone through the programme, and they can now read and write in their vernacular and some in English as well.
The campaign is well on track to meet its goal of halving illiteracy by 2015 by reaching and teaching 4.7 million South Africans to read and write in one of the 11 official languages. The campaign has increased its intake from 357 195 learners in 2008 to 665 246 in 2012. It is also projected that the campaign will reach a further 676 800 by the end of the year, another 677 980 next year and another estimated 677 980 by 2015.
Kha ri Gude is Tshivenda for "Let us learn". The mass literacy campaign is helping to boost the confidence and restore the dignity of many.
Another proud teacher, Khethiwe Komazi, is a vibrant 21 year old from Kimberly who has her own special way of teaching prison inmates, while successfully keeping them focused to their school work. Komazi is a volunteer educator of the Kha ri Gude programme and teaches prison inmates Afrikaans, English and Numeracy. Komazi's learners are between the ages of 16 and 65, and she says she enjoys working with elderly people. "At first I was intimidated by working in a prison, however, once I got to know the offenders I became comfortable with teaching, as they each have interesting stories to tell."
The class material is specifically designed and uses themes and life-skills such as health, gender, the environment and civic education to teach learners. This material has also been adapted for use in Braille, the 11 official languages, and by the deaf.
Volunteers in each province are selected and are given job opportunities to teach in classes. Over the past few years, the campaign has paid out R750 million to more than 70 000 volunteers.
The classes are held in homes, churches, mosques, schools, prisons and community centres, and are free of charge.
At the end of the programme, learners who have demonstrated that they are able to master the basic skills of reading and writing are presented with certificates which are the equivalent of Adult Basic Education and Training Level 1 certificates. This certificate will enable those who are interested to further their education up to ABET Level 4, which is the equivalent of Grade 9.
To find out more on how you can enrol or be a volunteer teacher in your community contact the Kha ri Gude call centre on 0800 20 29 33.