Youth matters
It was over 10 years ago, during one of Oyama Matomela' s Sunday afternoon strolls with her aunt to the Port Elizabeth Airport, that she fell in love with aircraft, and started dreaming of becoming a pilot.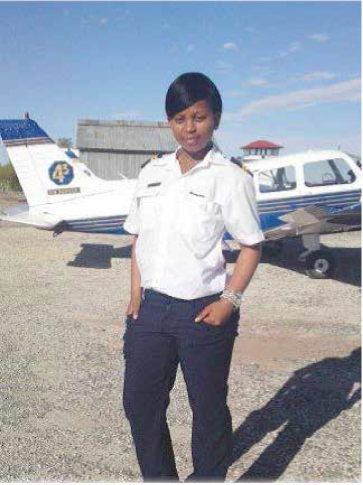 Matomela is now living her dream, but she says it was not easy learning to fly. "It was a challenging journey especially because this is a male-dominated field and as a woman you have to put in an extra effort."
The 21-year-old is one of the more than 500 young people from the Eastern Cape who have benefited from the bursary scheme started 10 years ago by the Eastern Cape Department of Transport.
She is the fi female sponsored by the department to obtain a pilot licence. Now, after being appointed by a Johannesburg- based Superior Pilot Services to fly and instruct pilot students, she seems set to soar even higher.
"I started liking airplanes at an early age when my aunt took me to the Port Elizabeth Airport to see airplanes taking off and landing. I knew back then that I would one day become a pilot," says the elated Matomela. In 2012, she completed her studies and obtained her pilot's licence with the internationally acclaimed 43 Air school. For her pilot licence, she had to attend theoretical classes, write eight exams and do practicals within a space of eight months.
She recently completed her Grade 3 Instructor Rating Course in Aviation at the 43 Air School which allows her to instruct student pilots. "I feel good about getting the job, but I still need to do the 15 hours of flying the Cessna 172," she explained.
The department has pledged to assist Matomela get her 15 hours of flying the Cessna 172. "We have come a long way with Oyama and she has always shown commitment to her studies. We just can't let her down now," said the department's Human Resource Development Manager, Linda Bovana.
When asked where she sees herself in the future Matomela's answer is firm. "Flying for South African Airways or South African Express."
Last year she appeared in a television advert for Brand South Africa's new slogan "Inspiring New Ways", where she featured alongside several prominent South Africans including celebrities, sports stars, entrepreneurs and entertainers.
The MEC for Transport in the Eastern Cape, Thandiswa Marawu, said her department is proud of Matomela's achievement. "We salute this young lady who worked very hard in a male dominated environment and made full use of the opportunity she was offered by the department through our bursary scheme.
"As a department, we are proud of her and we truly believe that her achievement could serve as an inspiration to other young ladies in the province."