For over a decade, Peter Rammutla was an ordinary village cattle farmer battling to get by. But in 2008, he teamed up with five other people from Luka Village, outside Rustenburg to start the Kotulo Mushroom Cooperative.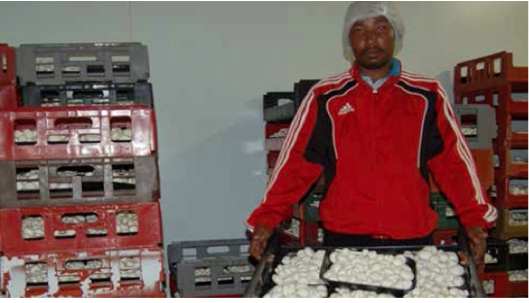 His interest in mushroom farming developed after he toured Tropical Mushrooms owned by Peter Nyathi in Magaliesburg. It then struck him that there were no mushroom farms in the Rustenburg region.
When it started, the cooperative had no money to build the special structure for growing mushrooms and to pay for electricity. It seemed to be living on borrowed time.
But in 2009, the North West Department of Agriculture and Rural Development came to the rescue. The department started by giving the cooperative R2,4 million, followed by a further R1,2 million in 2012 for the construction of the structure where the mushrooms are grown. The structure has six rooms of 180 square metres each fitted with shelves. The Small Enterprise Development Agency (Seda) helped the co-operative draw a production and marketing plan. Seda also helped to barcode and brand their products for the mass market.
Today, the cooperative supplies mush- rooms to big retailers such as Spar, Fruit and Veg City and Spur. "We do the delivery ourselves," he added. The cooperative employs 16 people drawn from the village. "We import the soil we use to grow mushrooms from Ireland and The Netherlands every quarter, while the compost is ordered locally," explained Rammutla who added that harvesting takes place after 18 days of growing.
The department took members for training in mushroom production and allocated them a project manager who is experienced in mushroom production. The department's Agricultural Extension Advisor also provides technical support on a regular basis.
Rammutla said there is stiff competition in mushroom farming. "The competition is very tough. We are managing because we produce quality mushrooms and people love them."
The MEC for Agriculture and Rural Development, Desbo Mohono, said the department would continue to support the cooperative because it is the only mushroom project funded by the department in the Province. The department helps the cooperative get access to niche markets, given its massive nature and contribution towards rural development.
The cooperative has established markets in and around Rustenburg and Gauteng. "We produce 2,5 tons per week and our produce has proved to be the best in the market as it is 100% organic," said Rammutla.