Leading up to the 2010 FIFA World Cup™, Virginia Simango from Muyexe Village near Giyani was unemployed and dependent on her husband.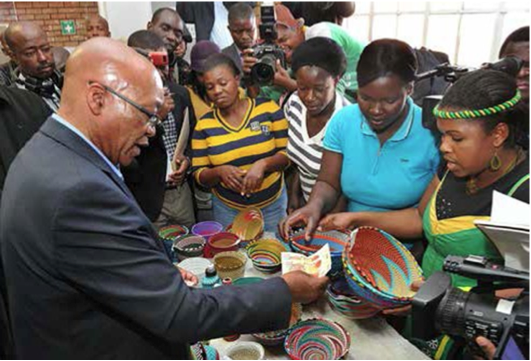 Things were hard at home. My husband and I have two girls, one was 16 years old at the time and the other was eight.
So because I was unemployed, we relied on my husband's salary. He works at a factory in Germiston."
But her fortunes changed in 2010 when she met an official from the Department of Rural Development and Land Reform who helped her and over 150 other women from the village to make a living from arts and crafts.
With training from the department, the women were ready to knit beads that decorated vuvuzelas in time for the World Cup. The vuvuzelas were sold for R120 each.
Simango is one of many who are benefiting from the Comprehensive Rural Development Programme (CRDP) that President Jacob Zuma launched after his State of The Nation Address in 2009.
The programme was piloted at Muyexe Village and soon, the Department of Rural Development and Land Reform will take it to other rural areas around the country.
President Zuma recently visited the village, some 30 kilometres from Giyani to assess the progress of the programme and the impact it has had on the village – which has about 1 000 households with a population of 4 500 people.
Simango, who was exhibiting her handmade bowls and beaded water bottles, told President Zuma that she and eight other women have been in business since 2010 and that government secures invitations for them to exhibit their work once or three times a month, depending on how busy it is.
Her next goal is to have her company, Progress Muyexe Arts and Crafts, registered so that she can conduct business formally and establish a flea market.
President Zuma went on a shopping spree, buying five large decorating bowls that Simango and her colleagues made out of straw, for R600. Her crafts were popular on the day, and she made off with R1 360.
A three-room mobile office has since been delivered to Simango for her and others to craft their artworks from. Simango and her eight colleagues will be part of an arts and crafts cooperative that Rural Development is setting up. Currently, 150 residents are involved in arts and crafts in Muyexe.
Simango said she was happy to have met President Zuma, and said ever since his visit, officials had been in constant contact with her and she has been assured that she will be helped with the registration of her company.
"While we appreciate the Government's help in getting us exhibitions, having a registered company will enable us to stand on our own and seek our own place to market our work," she said.
President Zuma also visited three other projects in Muyexe – the Muyexe Early Childhood Development Centre that houses orphaned children, the Muyexe Macena Garden and the Muyexe Water Purification Plant and Reservoir.
President Zuma said he was very happy with the progress that had been made since the programme was launched.
We are looking forward to taking this programme to other areas. The Minister of Land Reform and Rural Development has said that this project has taught us several lessons that we will use when we go to other rural areas."
As part of the programme, about 330 houses are being built, boreholes have been equipped, a water purification plant has been set up underwritten by the Development Bank of South Africa, internal water reticulation has been established by the Giyani local municipality and 275 sanitation units have been provided.
A community centre which houses a Post Office, a clinic, a satellite police station, a drop-in centre and a sports stadium has also been built by the provincial government.
The local school was renovated and more classrooms and ablution facilities were added. A new Early Childhood Development Centre with solar lighting was also constructed.
Two village viewing areas now enable the community to view major sporting events. Also, an I-school Africa Rural Development Programme at the primary and secondary schools offers learners an opportunity hone skills in the use of new technology.
Charles Neluheni, a Deputy Director at the Limpopo Department of Rural Development and Land Reform, said since the programme was launched in 2009, 1 498 temporary jobs had been created.
Moshe Swartz, rural development's deputy director-general, said the department supports several cooperatives.
The Macena women's garden is one of the eight cooperatives that the department was helping. Other cooperatives are into fence making, brick-laying, arts and crafts, bakery, poultry and perfumes respectively.
Swartz said young people in the area will be recruited to join the National Rural Youth Service Corps, a programme to uplift unemployed youths in rural areas.