After graduating with a bachelor degree in Science and Zoology, Given Leballo spent two years without a job. From 2005 to 2007, the University of Pretoria graduate would wake up in the morning to buy newspapers and page through the Careers section looking for a job without success.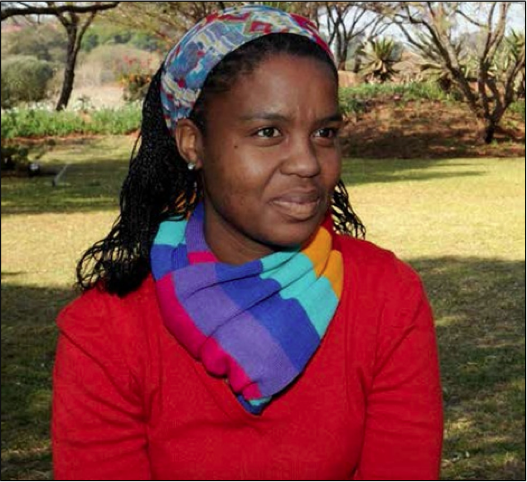 Leballo's prayers were answered in 2008 when she got a job as a machine operator at the Nuclear Energy Corporation of South Africa (Necsa). She was one of the people responsible for extracting uranium at the Necsa plant, a job she did not like. "It was sad for me to do something that I did not study for," she explains with a sad face.
After spending four years at the plant, she decided to take the risk by resigning and looking for a job in the biodiversity sector, a field she studied and is comfortable with. Her timing was perfect because just at that time, the South African National Biodiversity Institute (SANBI) was looking to recruit 800 young people for a new project called Groen Sebenza.
Groen Sebenza is an initiative spearheaded by SANBI in partnership with 32 other stakeholders in the biodiversity sector. It aims to develop skills and bridge the gap between education and the workplace in the biodiversity sector. The R300 million project is sponsored by the Development Bank of Southern Africa's Jobs Fund.
The initiative is based on an "incubator model" that gives 800 participating youth workplace experience through a mentor- ing programme. Participants are allocated mentors for the duration of the mentorship which runs for two and half years. Out of the 800 incubants, 500 are graduates and 300 are school leavers (matriculants).
Leballo is currently employed in the Biosys- tematics department of SANBI where she is responsible for maintaining the database of all the indigenous animals in the country. As a graduate, she earns R7100 and she says it goes a long way in supporting her two kids. "This really helps a lot and the fact that I'm doing what I studied for makes things even more simple," she adds.
Programme Manager of Groen Sebenza Vivian Malema says that the training of the 800 learners will add skills that are badly needed in the biodiversity sector. "These incubants will serve as a catalyst to skills development in the sector."
Who qualifies to apply?:
Unemployed youth from previously disadvantaged backgrounds
South African citizens
Primary residence and schooling in rural areas
50/50 gender split
A national matriculation certificate for the School leaver placement
A national diploma or first B-degree for the Graduate placement
A demonstrated and clearly articulated commitment to the environment
A commitment to a career development in the environmental sector
Good leadership potential.
For more information, contact SANBI at 0128435000 or visit the website www.sanbi.org