When his contract with a ceiling manufacturing company ended three years ago, the 27-year-old Sthembiso Menaneso drew on his home baking skills to make a living. Together with his brothers, he started baking cakes to sell around their home in Katlehong. "Baking was what our mother had taught us so we decided to make money out of it."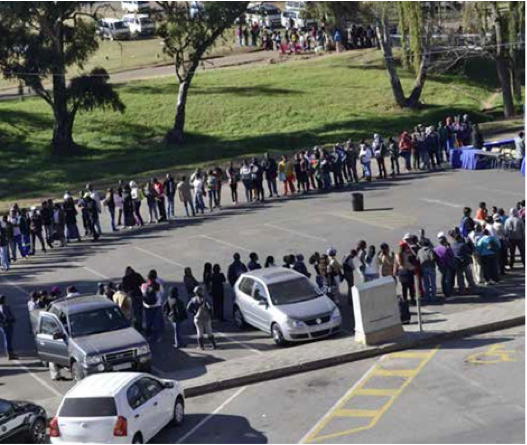 They baked cakes for weddings, funerals, corporate functions and other community events from their family kitchen. The brothers now want to register and grow the business into a catering company.
Menaneso is one of the 12 000 people from across the Ekurhuleni Municipality who attended the three-day Job Summit and Career Expo held by the Municipality at the Alberton Civic Centre to share the municipality's perspective on stimulating youth development, job creation and skills development.
He says before attending the summit, he did not know where to go to register the business, how to draw a business plan and a company profile and where to access funding.
Menaneso says the summit opened his eyes and gave him access to information on how to grow the business and make it professional.
"I also learnt from the summit that as young people we should be the creators of jobs and not wait for jobs to come to us. There is always a second chance in life and we should use it."
Ekurhuleni Mayor Mondli Gungubele said the city was committed to creating 180 000 jobs over five years.
Mayor Gungubele said to date over 500 young people have been placed on the City's Graduation Placement and Experiential Programme to gain work exposure over a period of 12 months.
He said unemployment in Ekurhuleni stood at 39.5 per cent.
"Of those people, 61 per cent are young people of 34 years and below. Moreover, 42 per cent of the population does not have a matric. Only three per cent of the population has a qualification equivalent to a university degree."
He said this was worrying because it showed that nearly four out of every 10 young people are unemployed. He added that two out of four unemployed young people within Ekurhuleni are heading a household.
"It is against this background that a significant portion of our future plans revolve around creating jobs for young people."
He called on the private sector to enter into partnerships with the city to create jobs and develop skills.
The city and various businesses in Ekurhuleni have committed over R10 million towards bursaries for post-secondary education and on-the-job training in line with the municipality's "Window of Opportunity" initiative.
Mayor Gungubele said since June last year, the metro has implemented the second phase of the Contractor Development Programme where 20 learner contractors were implementing projects worth R47 million.
The Municipality's Waste Management Services Department has appointed 149 young people as part of the youth work readiness programme.
The Ekurhuleni Metro Police Department implementing is also pilot project for 100 youth who are being trained as Peace Corps, which are, volunteers working with the community.
The Mayor said the Disaster and Emergency Management Services was implementing a Fire Brigade Reserve Force programme for 200 youth.
The metro has also developed the Ekurhuleni Business Support Centre in Kempton Park where SEDA and ABSA will jointly provide enterprise development support to youth owned businesses.
"Come this time next year, I will be reporting back to the community the progress we have made flowing from resolutions and commitments we have made at the summit," he said.
Menaneso also vowed to return to the summit next year to access information and network with like-minded people.