When Hleziphi Mavuso was retrenched from a clothing factory, she stayed unemployed for fi e years. She then joined six other people to start a brick- making cooperative called Tfutfukani Bricks Cooperative in Kanyamazane in Tekwane just outside Nelspruit.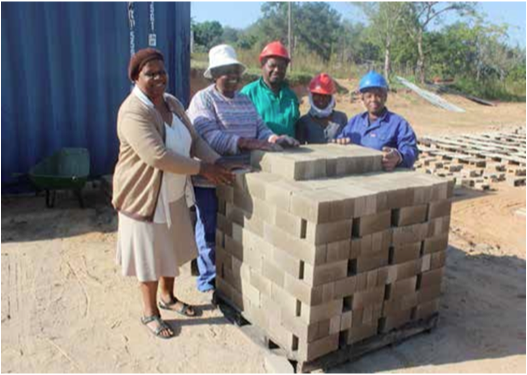 I realized that finding a job was difficult and I was not going any- where. I had been sitting at home for five years with no income and things were not looking good for my family.
In 2005, I teamed up with six people and registered the Tfutfukani Bricks Cooperative."
The cooperative is situated in Tekwane West. Mavuso said, they registered their business in 2005 but only became operational in 2008. "It took time to get the business off the ground because we were also looking for land to work from as well as funding."
Tfutfukani Bricks Cooperative makes about 10 000 bricks daily which are sold to local builders. They also have an agreement with Build It, a building supply retailer. The cooperative has an agreement to supply the retailer with their bricks which are SABS approved.
Five members of the cooperative work full time in the factory. Six other community members are employed as casual workers.
In 2008, Tfutfukani approached the Mpumalanga Economic Growth Agency (Mega) who granted the cooperative R495 000 loan funding. Delta EMD a global supplier of electrolytic manganese dioxide donated an industrial brick-making machine to the tune of R550 000. Mbombela Municipality provided land and they signed a lease agreement.
"With the money we installed electricity and fencing around the area we are working from. We also bought a container for storage, repaired the brick making machine, cleared the land, bought a secondhand forklift and constructed a guard house."
She said last year the cooperative also approached the National Development Agency for further funding of R941 719, which was used to buy material and a truck so business could run smoothly.
Maxwell Mathebula, the NDA provincial manager confirmed that his agency funded the cooperative and also ensured that members receive training in governance and financial management and controls.
"The cooperative agreement with the likes of Build It will ensure constant supply of bricks and ultimately generate profit to sustain their operations. The agreement will also ensure that they produce quality bricks. This relationship with Build It will give them an opportunity to work and compete with other local producers in the Mbombela Municipality," Mathebula said.
A typical day at Tfutfukani starts at 7am and ends at 4pm in the afternoon. "We start with mixing river sand, building sand and cement to manufacture the bricks."
The cooperative makes three types of bricks: hollow bricks used to make homes and walls, maxi bricks which are used mainly for RDP houses and stock brick used for paving on the roads.
Mavuso says the cooperative is doing very well, with room for growth in the future.
An excited Mavuso also points out another construction site not too far from their work station where a new school is being built.
"We approached the contractor to supply him with our bricks. He was happy to work with us. We are very excited that we will be part of the process of building the new school in our community."
The cooperative plans to expand and also produce concrete stones.
"We have come a long way and we are very proud of our business," concluded Mavuso.