For many years, Xoliswa Bekiswa had to share her mother's measly salary of R2500 with her two siblings and four cousins.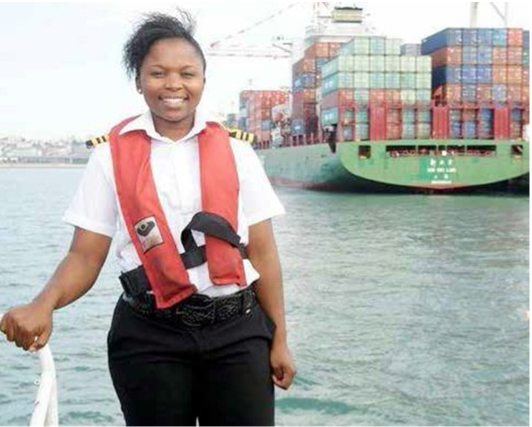 When her mother was retrenched a year before Xoliswa did her matric in 2000, the family was plunged into even more poverty.
The 29-year-old from Flagstaff, 45km north of Lusikisiki in the Eastern Cape, wished she could sail away.
But in 2001, with a bursary from Transnet National Ports Authority (TNPA), she could pursue a one-year maritime studies programme to realize her dream. She then went on to complete her practical training as a cadet out at sea with Unicorn Shipping Line.After a one-year pilot training programme, she qualified as a junior pilot at the Port of Cape Town before progressing through the various licence grades, starting with smaller ships of around 16 000 gross tons, which she soon upgraded to 20 000, then 25 000 and 35 000 before she obtained an open licence at the Port of Ngqura.
Matomela joins an exclusive club of five female marine pilots in the country who are tasked with the demanding task of guiding anything from the very smallest vessels to the gigantic super tankers and container ships into port.
Her fascination with the sea began while she went on a school trip to the Grahamstown Science Festival when she was doing Grade 11 in 1999. There, she met an exhibitor who explained how the world of vessels works.
"On the last day of the excursion, I went to curiously investigate an exhibition with pictures of vessels and ship models. The exhibitor explained in detail the process, dynamics and benefits of choosing a career in the maritime industry and I was hooked immediately," she said.
From the festival, she was on a mission to find out more about the world of vessels and she started digging more. "I started conducting research on my own. It was a bit difficult for me because information about the industry was not as readily available as it is today."
Her admission to study for a Diploma in Maritime Studies at the Durban University of Technology in 2001, signalled the beginning of a new chapter in her life and brought her closer to her dream. Little did she know the challenge that awaited her in the first year of study.
As her mother was unemployed, she had to go through the first six months of her first year with two skirts and one jean that were donated by a family member. "It was a terrible feeling, having to wear the same clothes over and over again," she recalls.
In 2001, Matomela's determination saw her entering the male-dominated field. She says getting into the field was not difficult, but the difficulty comes in when you are expected to prove yourself.
"We had to work twice as hard compared to our male counterparts".
After a compulsory oral examination with the South African Maritime Safety Authority (SAMSA), Bekiswa was awarded a Class 3 Desk Officer ticket to be a junior Deck Officer responsible for auto piloting vessels and man- aging safety equipment.
She then trained and worked as a tug master at the Port of Durban, directing ships in and out of the port with the aid of small tugboats. During all the hardships and the challenges, Bekiswa says she took valuable lessons from her mother and she will always be grateful to her. "I take the lesson learnt from my mother with me every day, that through patience, perseverance, strength and faith, anything is possible."