Funding from the Eastern Cape Development Corporation is helping rural farmers process their raw produce, adding value to their crops and boosting their incomes.
The Matyeni Agricultural Co-operative in Mount Frere is starting to farm commercially with the help of the Imvaba Co-operative Fund, an initiative of the Eastern Cape Development Corporation (ECDC).
Imvaba finance of R500 000 has allowed the co-op to build a small processing plant to mill its maize crop into livestock feed and retail maize meal.
At the launch of the plant, Eastern Cape Economic Development MEC Sakhumzi Somyo commended Matyeni for its initiative and called for rural people to create small businesses to boost rural economies.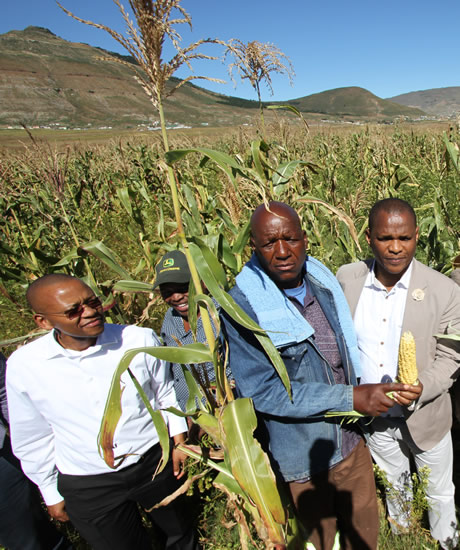 The Matyeni co-op was established in 2012. It has 300 hectares under maize, expected to yield 4.5 tons a hectare at harvest, said Matyeni Agricultural Co-operative chairperson Walaza Mazule.
"We are planning to increase maize production to 700 hectares. We are already in negotiation with the local Shoprite and Boxer stores to supply them with our processed maize meal. But we need to increase supply to meet this demand," Mazule said. He said their plans will gain traction when the planned Mount Frere Fresh Produce Market gets off the ground.
Animal feed
The co-operative has cabbages, carrots, beans, pumpkins and spinach planted on a further eight hectares. It also has 180 sheep, 53 cattle and 223 chickens.
Imvaba Fund manager Simphiwe Ntshweni said that for two years the co-op had been using a processing plant in Mbizana, 140km away, to make animal feed from their maize. This had improved the quality of their meat, but transport was costly.
"With the assistance of the Umzimvubu Local Municipality Local Economic Development Unit, they approached ECDC for help to establish their own mini-processing plant," Ntshweni said.
"Imvaba assessed the business and approved R500 000 to buy a hammer mill, a sheller and a three-phase generator in the absence of electricity in the area."
Millions in funding
Ntshweni said that adding value to agricultural produce was the key to better rural livelihoods.
 "Only the beneficiation of primary produce will lead to improved rural incomes."
Ntshweni said the R500 000 is part of R80.7 million disbursed to 153 co-operatives since the Imvaba Co-operative Fund was established.
"ECDC has also provided funding to seven potato-producing co-operatives in the OR Tambo district to the value of R3.35-million in the last year. The funds were used to buy agricultural inputs such as fertilisers, seeds and pesticides.
"The seven co-operatives have planted 26 hectares of potatoes in this their first season, estimated to yield 1 500 10-kilogram bags of potatoes per hectare at harvest."