Tears flowed when 84-year-old Thobekile Mkhize switched on the electricity in her home for the first time, after the KwaZulu-Natal government launched its R8.6 million electrification project in the rural Nquthu community.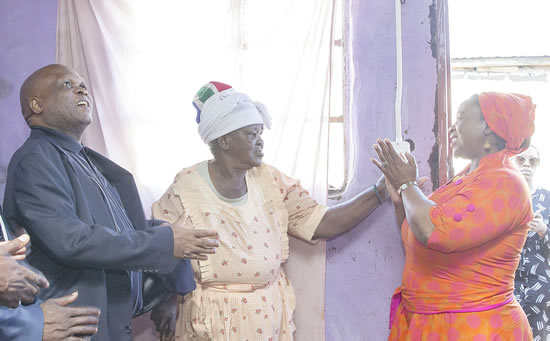 The days when 17-year-old Khethelo Sithole of Magogo Village in Nquthu, northern KwaZulu-Natal, had to study by candlelight are over. Today Sithole has light at the flick of a switch, thanks to the government's Comprehensive Rural Development Programme. The programme aims to mobilise and uplift rural communities, and ensure access to essential services such as water, sanitation and electricity.
KwaZulu-Natal MEC for Cooperative Governance and Traditional Affairs Nomusa Dube-Ncube and MEC for Agriculture and Rural Development Themba Mthembu launched a large-scale electrification project at Magogo Village recently.
The R8.6 million project will electrify 350 local households, benefiting 2 000 people. Sithole said she never thought a deep rural village like Magogo would ever have electricity.
"I used to watch television when I visited my mother in town. But now I will watch it here," she said.
"At school they require us to have phones with internet, but to charge our phones we had to spend R86 to go to town. Having electricity is a huge relief for us."
A great job
At the launch, tears flowed as 84-year-old Thobekile Mkhize switched on the electricity in her home for the first time. The government, she said, had done "a great job" by providing her community with electricity, toilets and water.
Speaking att the Magogo Sports Grounds in Nquthu, MEC Dube-Ncube called on the community to protect the new electricity infrastructure from the scourge of cable theft.
"This electricity is provided for you, so look after it," she said.
"By the end of the year you will all have electricity. For those of you who are not yet connected, just wait. It is coming to you, so do not make an illegal connection. Electricity is very dangerous if it is connected illegally."
MEC Dube-Ncube urged residents to use electricity wisely. "We promised as government to ensure that all our residents get electricity. We are keeping our part of the deal, but you as residents have to keep yours by ensuring that you pay for the electricity we provide."
The two MECs also officially opened the newly renovated Embokodo Embomvu Traditional Council, and  handed over a deep tank and grazing land fencing for livestock farmers in the community.