South Africa's future growth depends on young people embracing new technologies and innovation.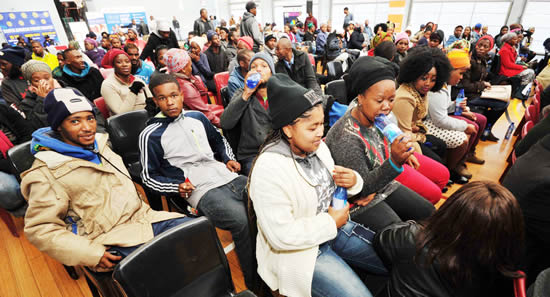 Two recent Youth Month events highlighted the importance of South African youth embracing technology and innovation. Science and Technology Minister Naledi Pandor spoke to young science students at the CSIR and Minister in the Presidency Jeff Radebe spoke to high school students at a Youth Dialogue in Khayelitsha.
Speaking at the Youth in Science, Technology and Innovation Indaba, Minister Pandor explained that future growth depended on embracing new technologies and innovation.
The growth of the technology sector offered young South Africans a chance to change the world. It was youth like those in the audience, she said, who would create the jobs the country needed.
"We are inspired by the success of new entrepreneurs and innovators who have taken advantage of the booming tourism industry, the booming mobile industry, the growing market in renewable energy, and the evolving market in the cultural and creative industries."
The minister added that it was the enthusiasm of science students that made it possible for government to convince business to help fund the 34 science centres that have been established over the last 10 years.
The department has built on this public-private partnerships and introduced an internship programme at the top tech companies in South Africa.
"Youth employment is critical in building a stable society and in promoting and sustaining national economic growth. And internships are part of our country's efforts to expand the science and engineering workforce for those with scarce skills."
Get ambitious
In Khayelitsha, Minister Radebe told an audience they needed to match the ambition of South Africans like Elon Musk and Siya Xusa. They are innovators who followed their interests and created companies that employed thousands.
"Your ambition as young people must not only be to aspire to get a job. Your ambition should be to be a job creator. Become entrepreneurs so that we can build a South Africa of our dreams," he said.
To be competitive in the new world of work, to be the highly educated and highly skilled innovators that South Africa needs them to be, they needed to choose to study STEM subjects  – science, technology, engineering and maths.
"It is important that we should think about the future because the world is moving at a very rapid pace. If as young people you are not part of that STEM, you are not part of that ICT revolution, technology will leave you behind," he said.
Government, the minister added, would create the foundation for young South Africans to build on by making it easier to access education and skills training. In return, they needed to use those skills to create the jobs of the future.
"Sixty per cent of all young people who are in primary school this year will be in jobs that do not exist today. My advice to you is choose to study STEM."