The triple challenges of  unemployment, poverty and inequality are at the root of many social issues. They can lead to anger and violence. This year, Mandela Month is dedicated to fighting these challenges, which will help free South Africa from the cycle of violence.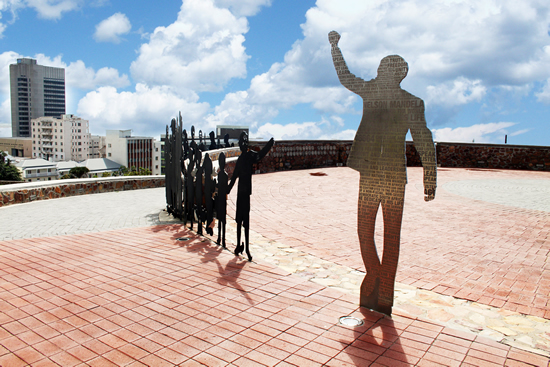 In July we celebrate the birth and legacy of Nelson Mandela. Government has called on all South Africans to honour his memory by working together to make women and
children safer.
Every year on 18 July – Mandela's birthday – the people of South Africa and the world set aside time to make a difference in their communities. Nelson Mandela International Day, declared by the UN in 2009, commemorates the service
of Mandela.
As President Mandela once said: "Our children are our greatest treasure. They are our future. Those who abuse them tear the fabric of our society and weaken our nation."
This year's Mandela Day will be dedicated to
fighting poverty.
The Nelson Mandela Foundation points out that poverty is the root cause of much of the violence in South African society. 
The foundation's CEO, Sello Hatang, has said, "People must be reminded that it's not just about doing 67 minutes of good and that we must bring about sustainable social change in the lives of our people.
"In the heart of it, we're saying the violence that is rooted in poverty cannot be allowed to continue."
Forward to equality
Delivering her department's budget vote earlier this year, Minister of Women Susan Shabangu said South Africa must unite to fight violence against women.
"It is in our power and within our means, even in the smallest of ways, to contribute to the fight against the abuse of women and children."
She said the National Development Plan aims to undo persistent discrimination of women and improve their access to education.
Secure employment and socioeconomic empowerment are the best tools government can give women to escape the cycle of poverty and violence.
Empowered and economically active women are a blessing to the economy. "It is only through full engagement of the talents and skills of women in the workplace that would make us more productive and prosperous," Minister Shabangu said.
Government commitment
The Department of Justice and Constitutional Development has developed the My Safety Plan to help abuse survivors find safe places to stay and allow them access social and economic support.
The programme complements South Africa's progressive legislation, the enforcement of protection orders, and the work being done by Thuthuzela Care Centres and Sexual Offences Courts to help women and children.
Other programmes, such as the Department of Social Development's Khuseleka One-Stop Centres and the South African Police Service Family Violence, Child Protection and Sexual Offences Investigation Units have made it easier for women to escape from and report violence.
Also, Minister of Police Fikile Mbalula has made domestic violence a priority crime.
His department is looking at changing legislation to make rape, infanticide, femicide and domestic violence special categories of crime.
"The killing of females because they are females threatens our national security by having a majority section of our population living in fear; it destroys gender balance, economic progress and harmony," Minister Mbalula said.
Government speaks out
Speaking at the National Men's Dialogue against Femicide in late June in Pretoria, Deputy Minister of Justice and Constitutional Development John Jeffery said that preventing and reducing violence against women and children is one of the country's priorities.
He reminded the men in the audience that they were role models to their children, especially their sons.
"Men very often don't understand the full and devastating effect violence has on women and children. No child should ever have to witness violence in the home.
"That's also why the way we raise our children, in particular our boy children, is extremely important."
The Deputy Minister said he was not calling on men to save women, which would be paternalistic. "We need more men to rise up to the challenge and tell other men that violence against women – whether physical or emotional – is unacceptable.
"It is about becoming role-models and mentors in our families and in our communities and showing children and young people that men can be caring, respectful and compassionate."
Gender-Based Violence command centre
This centre provides support to victims of gender-related violence. The centre operates has a toll-free number: 0800 428 428 (0800 GBV GBV) or by dialling *120*7867# (free from any cell phone) callers can ask that a social worker contact them.