The North West Department of Local Government and Human Settlements' shared services initiative is yielding good results.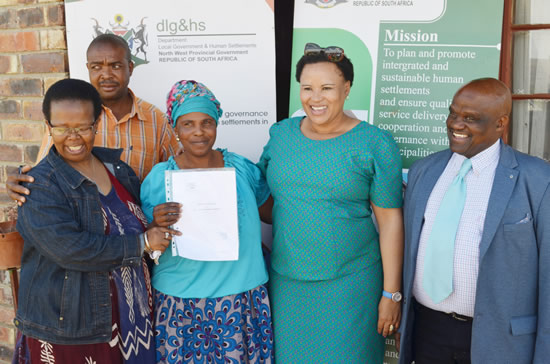 MEC Fenny Gaolaolwe said the project, launched in 2017, aimed to ensure municipalities delivered quality services to the province's communities.
So far, the intervention has improved internal audit procedures, risk management, the working of audit committees, and the management of spending on capital projects.
The programme includes shared internal audit services. These have already improved financial management in Mahikeng, Kgetlengrivier, Moses Kotane and Maquassi Hills.
"We have stopped the process of outsourcing internal audit services in our municipalities," the MEC said. "There is progress in financial management by municipalities, and improved functionality in the audit committees."
Municipal audits
MEC Gaolaolwe said her department was pleased with improvements in the previous financial year's audits of municipal finances, after some interventions.
"Out of the 23 municipalities, only six were disclaimed and one audit report is still outstanding. Six municipalities received unqualified audit reports, while 10 municipalities received qualified audit reports."
Housing development
MEC Gaolaolwe said that since the launch of  North West Premier Supra Mahumapelo's  Setsokotsane campaign, the province had made huge strides in providing housing.
"We managed to achieve the implementation of 17 551 housing opportunities comprising of 10 997 units and 6 554 serviced sites out of a target of
15 080 opportunities," she said.
"The mining town's overall achievements are at 4 876 units in the 2015/16 financial year, out of a target of 4 188 units. We continue to implement our special programme initiatives in support of women and youth contractors.
"To this end, 12 women contractors have been appointed to build 1 400 units through the 1956 women's build programme. We want to confirm that the contractors are currently on site in Itsoseng, Mahikeng, Glaudina and Lethabong."