Youth focus
Small and medium-sized companies in the Eastern Cape stand to benefit from new digital technology through a partnership between Vodacom and the province's Chamber of Business.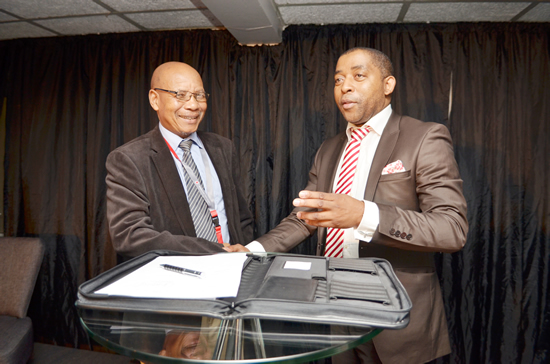 The Eastern Cape Chamber of Business (ECCOB) and telecoms giant Vodacom have entered a partnership to provide technology services to small and medium-sized enterprises (SMEs) in the province.
Signing the agreement in East London recently, Vodacom Business chief officer Vuyani Jarana said entrepreneurs starting a business had the burden of being the jack of all trades, from marketing manager to IT specialist. The new digital support would lighten this load.
"Our ultimate goal is to make all ICT and operational requirements a seamless process for small businesses," Jarana said. "This will enable them to focus their attention on their core business without any unnecessary distractions."
The Eastern Cape is the first province to enter this kind of partnership with Vodacom. The initiative has been sanctioned by both the Premier and the MEC for Economic Development.
Boosting business
Small businesses will have first access to trial Vodacom's enterprise mobility solutions. These include the Business Booster, a mobile platform that allows tradespeople and professionals to quote, invoice and accept payments while on the job.
The services will eventually be rolled out across South Africa. Jarana said the solutions would boost small businesses' competitiveness at home, and in the rest of Africa.
"The digital economy is the single most important driver of growth, innovation and competitiveness on the continent and it holds huge potential for South Africa," he said. "Small businesses must embrace the digital economy and our partnership with the ECCOB marks the beginning of an exciting digital journey."
Promoting growth
Vodacom will provide resources to train the business chamber and its members, and help them adopt its SME services.
Andile Nontso, secretary-general of the ECCOB, said the agreement would benefit the whole province. "This partnership will go a long way towards promoting the growth of small businesses in the Eastern Cape, which in turn will boost the regional economy."
According to Vodacom, its SME-supportive technology is a fixed solution available to all its network subscribers. Enterprise mobility applications and cloud solutions will allow SMEs to operate from anywhere and at any time. 
Another service to be provided through the chamber is One Net Business, which integrates and links companies' mobile phones and land lines.
Eastern Cape businesses who would like to find out more can contact Bukeka Soyizwapi at the ECCOB on 047 531 4979 or email bsoyizwapi84@gmail.com.