The North West provincial government will work closely with ailing municipalities to speed up service delivery during phase two of the Back to Basics programme.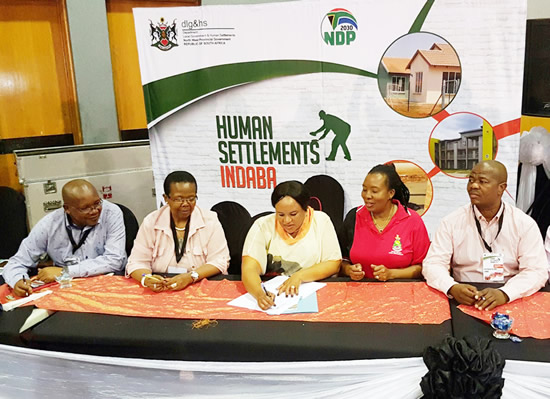 The North West government will work with municipalities to speed up the delivery of services to communities in the second phase of the Back to Basics (B2B) programme, according to Local Government and Human Settlements MEC Fenny Gaolaolwe.
The 2016/17 financial year was critical to the success of the B2B programme's second phase, the MEC said.
"The department commits to continue with coordination of the implementation of the Back to Basics programme to respond to the 10 Point Plan of Priority Actions."
MEC Gaolaolwe said her department would work closely with the Finance, Economy and Enterprise Development (FEED) department to assist ailing municipalities given disclaimer audit opinions by the Auditor General.
Operation Audit
"We have initiated Operation Audit rooms in partnership with FEED to support municipalities receiving disclaimer audit opinions," the MEC said.
"This operation focuses on the establishment and maintenance of proper records and information management systems. It will further provide support to strengthen municipal audit committees and internal audit structures whose responsibility it is to review the financial records of municipalities."
MEC Gaolaolwe said her department would keep an eye on how well ailing municipalities implemented recommendations coming out of forensic investigations.
Proper leadership and skilled management were key to running a municipality successfully, she said.
"The department will continue to support municipalities to build leadership and management capacity of ward committees to ensure that they are responsive to the community needs.
"We have conducted induction workshops on the role and responsibilities of wards committees across the province."
Better revenue collection
Municipalities get their funds both from the provincial government and from revenue collected from citizens and businesses living and operating in the municipality.
To ensure North West municipalities got the funds they needed to deliver services, MEC Gaolaolwe said, her department would work closely with FEED to develop strategies on how to improve the collection of revenue.
Twelve municipalities have already developed their strategies. They are Dr Kenneth Kaunda District, Tlokwe, Moretele, Madibeng, Kgetlengrivier, Lekwa Teemane, Greater Taung, Naledi, Tswaing, Ramotshere Moiloa, Mamusa and Mahikeng.