Written by Hlengiwe Ngobese
A thousand households from Ofafa village in Harry Gwala District Municipality will soon live in decent housing, thanks to the KwaZulu-Natal Department of Human Settlements. The R110 million housing project was recently handed over by MEC for Human Settlements Ravigasen Pillay.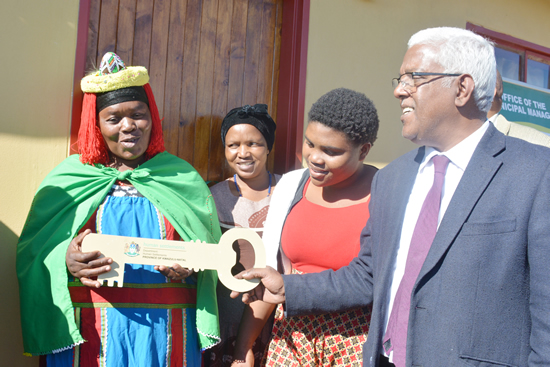 "I can't believe it is mine," said Qhamkile Mbele, 45, one of the Ofafa project beneficiaries.
"I always dreamed of owning a decent house one day. But I could not afford it, as building material is very expensive. This is my first house built with bricks – not to mention the roof tiles. If government didn't build this house I would have gone on living in mud housing," she said.
"Even if I can die today I can rest well knowing that I left my family in a better place."
Huge social housing projects
At the handover ceremony MEC Pillay said each house would have ceiling board, electricity and a rainwater tank.
"In KwaZulu-Natal we have built more than 900 000 homes since 1994 and created more than 80 000 housing opportunities through serviced sites," he said.
"The Ofafa housing project follows one of the country's biggest social housing projects in Westgate, Pietermaritzburg. That project accommodates 3 500 beneficiaries and cost close to R400 million."