Yet again the National Flag is flying at half-mast at all flag stations countrywide and at South African Diplomatic Missions abroad as we mourn the passing of another gallant human rights fighter and servant of the people of South Africa:  Dr Zola Sydney Themba Skweyiya.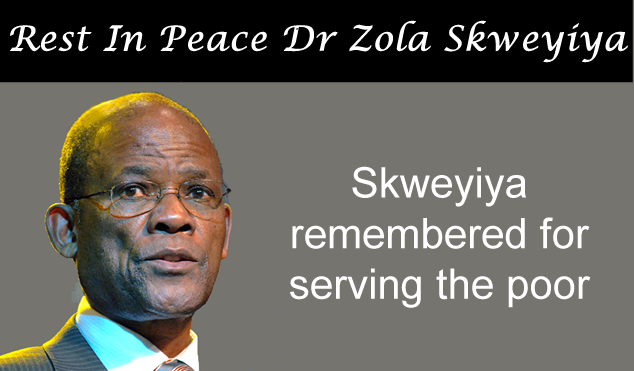 His untimely death is a loss not only for his family and comrades but also for the country and the developing world as a whole.  Often when confronted by the passing of a comrade one holds dear, the initial instinct is one of denial, then eventually one of reflection. Often the temptation to merely reflect on the individual by strolling down the life of a person as if constructing a curriculum vitae of the life of the individual creeps in and many construct this CV on where one was born, lived, worked and so on.  Seldom does one delve into key questions such as What can one learn from the life of such a gigantic and colossal comrade? What lessons can one draw from such a dedicated and committed comrade, so that one can arm one's self for the battles ahead?
There is no doubt that the life of comrade Zola is one of struggle, compassion and human conquest over adversity.  Leaving his birth place of Simonstown, not out of choice but due to evictions, he was to find a childhood home in what we now know as Nelson Mandela Bay.  His quest and pursuit for education was to find him at that great fountain of knowledge of Lovedale, wherein he was to interact with many of our leaders including Oom Govan Mbeki.  
His life is also one which is interwoven with our story of the struggle and is interspersed with the portraits of many of our struggle heroes and heroines including Chris Hani whom he served with in the Luthuli Detachment, Florence Mposho whom he worked with in the promotion of children's rights, Gertrude Shope whom he worked with in Zambia, OR Tambo whom he served under in various capacities including in the Legal Department and Nelson Mandela whom he courageously served under in the CODESA negotiations and in his Cabinet, to name but a few.
What a giant.  What a great man who selflessly sacrificed for us to attain our democracy and secure a better-quality life for our people. What a privilege to have known him as a friend, comrade and colleague; to have learnt from him and to have sponged of his wisdom which he acquired over the years.  
All was not in vain there is much we can learn from this great son of the soil, who spoke with compassion on human rights and the right to development, amongst many other topics. In reflecting on his life, I came across four profound 'dangers' he highlighted during the Launch for A Safe South Africa Convention back in August 2008. Lessons which remain valuable for our journey ahead and towards economic emancipation for our people, he warns that: "we as South Africans need to safeguard against the dangers of futility, expediency, timidity and comfort."
The movement which we serve remains the leader of society.  If marshalled well, in unity, we can make the requisite step change to bring about economic freedom and a better quality of life for our people, especially those that continue to be marginalised especially the women, children, youth and people with disabilities. Through his leadership the Department of Public Services and Administration was established uniting 14 public services at various stages of development and the ethos of Batho Pele, putting our people first in the delivery of services was established.  It was through his leadership that social grants recipients moved from 4 million to just over 12 million thus providing a lasting blow in our fight against hunger and poverty.  
The second danger is that of expediency; of those who say that hopes and beliefs must be sacrificed before immediate necessities.
"Of-course if we must act effectively we must deal with the world as it is. We must get things done. However, it is the belief that idealism, high aspiration, and deep convictions are incompatible with the most practical and efficient of programmes – that there is no basic consistency between ideals and realistic possibilities – no separation between the deepest desires of heart and of mind and the rational application of human effort to human problems. Poverty is in itself a form of oppression and we are all too aware of the extent of poverty in our society."  
Indeed, many of us who have the privilege to serve our people often fall into the expediency mode and see the trees whilst forgetting the forest. The task that therefore lies ahead of us is one in which we must continue to improve the living conditions of poor, vulnerable and underprivileged South Africans.
Dr Skweyiya further warns us of a third danger, that of timidity.  He says "Few men and women are willing to brave the disapproval of their fellows, the censure of their colleagues, and the wrath of their society. It is as Aristotle put it "[It is not] the finest or the strongest men who are crowned, but those who enter the lists." How often have we sat on the fence and coward at the face of adversity? "I believe that in this generation those with the courage to enter the conflict will find themselves with companions in every corner of the world."
It was with this outlook that Dr Skweyiya applied himself especially when it came to his work in the Constitutional Committee which was established to develop a position for our movement towards the Constitutional negotiations at the CODESA.
The fourth danger is one of comfort, especially for those of us who are more fortunate. He says: "the temptation to follow the easy and familiar path of personal ambition and financial success so grandly spread before those who have the privilege of an education – to hide behind our high walls and security estates." Dr Skweyiya was steadfast in his belief that deployed cadres have a responsibility to ensuring the dignity of our people. As a government, we are proud that his legacy continues today.  
Throughout his long years in public service, and the countless years that he spent fighting to bring about democracy and freedom he always remained a humble and dedicated leader. By any measure his legacy is immense and will never falter.
What he and others of his generation achieved is truly inspiring. They were in the frontlines at a time when the price for defying the apartheid regime was often death. Yet they continued nonetheless, and in doing so had to sacrifice all they held dear.
Isolated, constantly harassed or forced into exile, patriots like Dr Zola Skweyiya lived knowing that they might never see or taste the fruits of freedom. But they never once took a step backwards, so strong was their belief in the unstoppable destiny of a free and democratic country.
It remains an indictment on all of us that millions of fellow South Africans still remain marginalised, poor and bereft of hope for a better future.  This simply cannot be, certainly not in a country with our resources and economic, intellectual and social capital.
His sad departure has deprived his family of a dedicated husband, father, grandfather and devoted family man. Our nation is undoubtedly poorer for his passing, but not even death can erase his legacy, he lives in the hearts and minds of millions of our people especially those who are public servants and social grant recipients.
Hamba Kahle Comrade Zola, Qhawe lama Qhawe may your soul Rest in Peace, confident in the knowledge that your legacy continues.