Governmenete is determined to grow the tourism sector and to double the number of employment opportunities for youth.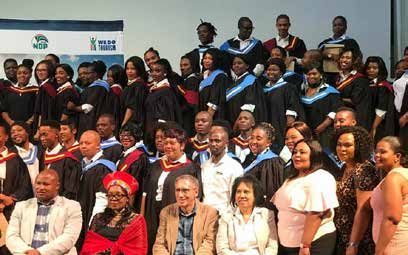 Shaun Mashimbye (29) is one step closer to fulfilling his dream of owning a lodge and contributing to South Africa's tourism economy.
This was after he graduated from a 12 month programme offered by the Culture, Arts, Tourism, Hospitality and Sport Education and Training Authority's (CATHSSETA) Hospitality Youth Training Programme.
Mashimbye was one of the 117 youth from the Northern Cape to receive an accredited national certificate in food and beverages as result of taking part in the programme, which was sponsored by the Department of Tourism under the Expanded Public Works Programme.
"I am so grateful for being part of the programme. I feel fortunate to have learnt so much about the hospitality industry and how I can contribute to the country's economy, by starting my own tourism-related business. After graduating, I know that I am one step closer to one day running my own lodge," says Mashimbye.
 Shortly after graduating Mashimbye found a job at the Internal International Convention, which specialises in event management and conferencing.
Speaking at the graduation ceremony, held at the Mittah Seperepere International Convention Centre in Kimberley recently, the Deputy Minister of Tourism, Elizabeth Thabethe applauded the learners on their achievements and encouraged them to utilise their qualification to advance themselves and contribute to economic transformation.
In his State of the Nation Address President Cyril Ramaphosa said  2018 is a year of renewal and high expectations for the tourism sector.
He tasked the Department of Tourism to grow the tourism market and to double the number of employment opportunities in the sector, with a special focus on skills development.
"Since 2011 our skills development programmes have capacitated over 2500 young South Africans in the tourism value chain. This has created over 60 percent employment opportunities domestically and abroad."
"I applaud your efforts in achieving your CATHSSETA-accredited qualification. I urge you to consider advancing yourselves beyond this point to be the future employment creators in our sector," Deputy Minister Thabethe said.
The Hospitality Youth Training Programme is comprised of 30 percent theory and 70 percent practical training and learners were afforded an opportunity to gain workplace experience at various hospitality establishments in the province.
Fifteen learners now have permanent employment and the rest are on fixed-term contracts.  
Deputy Minister Thabethe commended the supportive role played by the hospitality industry in ensuring that the training programme was a success.
"The success of this training programme is shared with industry stakeholders who partnered with us to provide in-house practical training for the learners. To them I say thank you for rallying behind this initiative, and for upskilling the tourism ambassadors that are graduating," the Deputy Minister
said.
For more information about the departmentís skills development programmes, visit www.tourism.gov.za