Youth matters
Transnet National Ports Authority (TNPA) has appointed Pinky Zungu (33) as the Port of Durban's first black female deputy harbour master: nautical.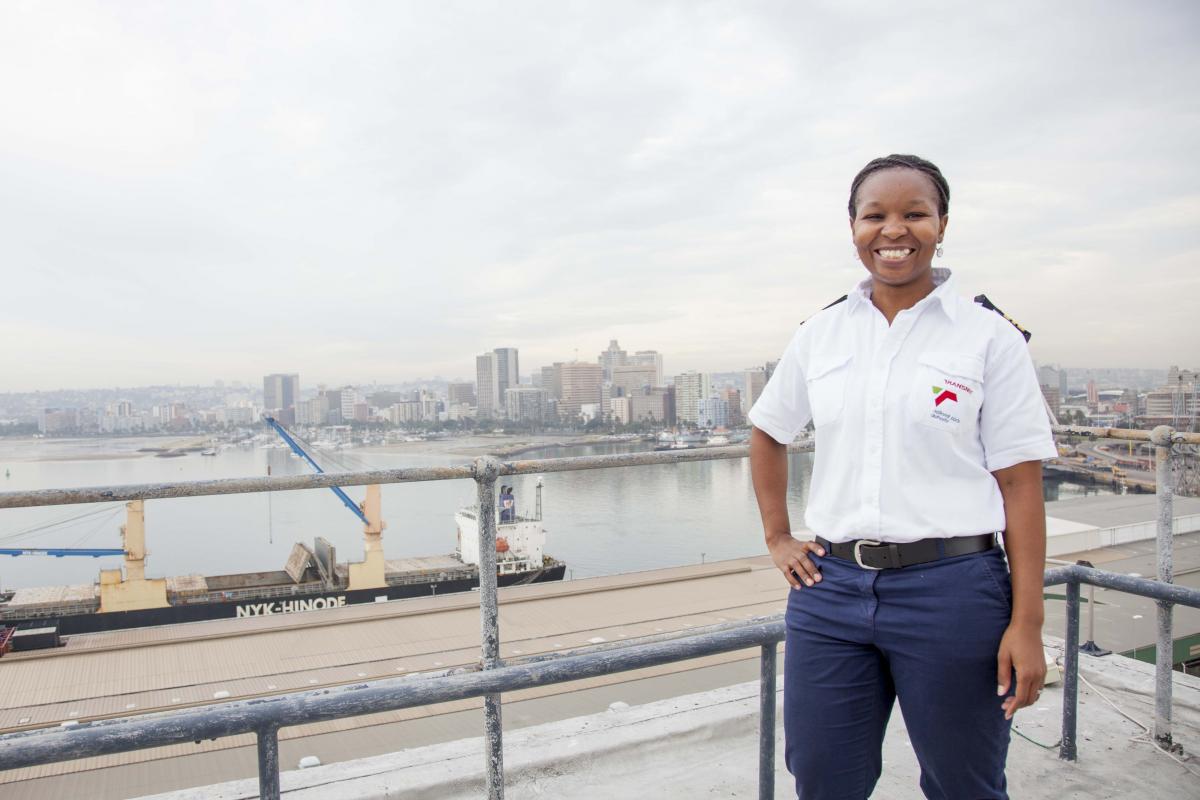 Speaking to Vuk'uzenzele Zungu said she was excited by her new position and slightly overwhelmed. "I know how enormous the task at hand is. It is not an easy one, but it is a challenge I am looking forward to."
A harbour master has to ensure the safety of navigation, security of the harbour and correct operation of port facilities. She also has to liaise closely with the dredging department, do incident management, ensure vessels carrying dangerous goods comply with control measures, and ensure the port's safety.
Zungu wanted to be an airline pilot, but her parents could not afford the training so she signed up for Maritime Studies at Durban University of Technology before joining the TNPA as a development candidate in 2001.
She spent her first eight months as a cadet and the only female crew member on a bulk carrier crewed by 28 Russian men. Only the captain could speak a little English. "I had to be physically and mentally strong to perform the role," she said.
Marine pilot
She was one of the first three women in Africa to obtain a marine pilot open licence in 2011 which allows one to pilot any type of vessel.
A week later she piloted the MSC Chicago, then the largest container vessel to visit South Africa. This was soon after the entrance channel had been widened to make way for a new generation of container ships. She has seven years' experience in guiding various vessels into the Port of Durban.
Being a marine pilot is not easy. "You have to study the sounding charts daily and have an accurate mental picture of the seabed. You have to know what's underneath you including port depths, as the equipment on the visiting ships doesn't always work. When you bring in a vessel you take over from the captain and all the decision-making is up to you. You are on your own and it can be stressful.
"You have to be prepared for any emergency including engine failure and other factors beyond your control, such as a sudden change in the weather," she said.
"I wanted to see the world. I have now been to most of Europe and West Africa. It is a really exciting job. I'm encouraging young women especially those in school to take their studies seriously. Do not be afraid to take Maths and Science because you will need [those subjects] to become a marine pilot," she said.
For more information:
Tug Master
Benjamin Smit
Durban
(031) 361-6328
Benjamin.Smit@transnet.net
Elelwani Nemukula
Durban
(031) 361-6667
Elelwani.Nemukula@
transnet.net