Written by *Moffat Senyatsi
Over a 1 000 households in three different villages in the Aganang Local Municipality will benefit from the newly launched water projects.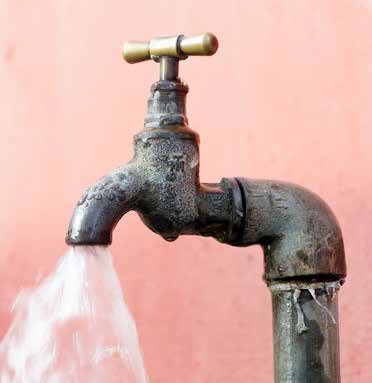 In its continuous effort to increase access to water and improve the quality of lives of people, Capricorn District Municipality (CDM), handed over water projects to communities in Mashashane, Matlala and Maraba in Aganang Municipality recently.
Executive Mayor Gilbert Kganyago handed over the water projects to Kgomoschool, Naledi, Phofu, Bergsicht and Lepotlako.
"I hope the projects will go a long way in further expanding the water reticulation network and reduce the backlog of water supply in this area," said Mayor Kganyago.
The handover comes four months after Kganyago made a commitment in his State of the District Address that the CDM "continues to intervene in areas where water shortages are severe" as it strives to reduce the water supply backlogs in more villages.
Water services backlog in Aganang currently stands at 22 per cent and the area has long been serviced through various regional water schemes which is not sufficient.
In Kgomoschool the construction of elevated steel tanks and a pipeline now benefits 463 households and the project in Phofu 304 households through yard connections and communal taps.
In Naledi, the project benefits 400 households through yard connections reticulated from an elevated steel tank.
Maria Matsaung of Naledi village said she was relieved that finally her village got water.
"This hopefully ends years of travelling long distances to fetch water," she said.
*Moffat Senyatsi works for the Capricorn District Municipality.
Be water smart:
South Africa is a water scarce country and it is up to all of us to save every drop. Here are a few tips to help you save water:
Never pour water down the drain when there may be another use for it such as watering a plant or garden, or for cleaning.

Make sure your home is leak free. Many homes have hidden water leaks.

If the toilet handle frequently sticks in the flush position letting water run constantly, replace or adjust it.

Store drinking water in the refrigerator. Don't let the tap run while you are waiting for cool water to flow.

Do not use running water to thaw meat or other frozen foods. Defrost food overnight in the refrigerator or use the defrost setting on your microwave.

When washing dishes by hand, fill one sink or basin with soapy water. Quickly rinse under a slow-moving stream from the faucet

If you have a well at home, check your pump periodically.

Avoid flushing the toilet unnecessarily. Dispose of tissues, insects and other similar waste in the trash rather than the toilet.
Why safe water?
South Africa is a water-scarce country.
Unless we reduce our water use, water restrictions will be introduced.
Whose responsibility is to conserve water?
Everybody uses water and it is everybodyís responsibility to use water wisely, sparingly and to save it wherever possible.
How can I play my part?
You can play a part by being aware of your impact on water consumption and your responsibility to save it and by telling others about it.
You can save water at home, at work, at school and anywhere you use water.
Use the many tips to save water and try to find other ways to save it.
Source: nelsonmandelabay.gov.za