Written by Noluthando Mkhize
A young KwaZulu-Natal woman sees more than chips and mash when she looks at potatoes. She sees the potential for sustainable farming and food security.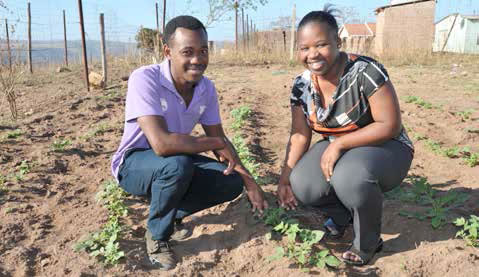 Busisiwe Mntungwa has introduced to South Africa a water-wise way to grow potatoes in a sack that is well suited to our water scarce country.
The 27-year-old, who hails from Mophela, a semi-rural area just outside of Durban, won Ithala Bank's Inkunzi Isematholeni Youth in Business Competition for this innovation.
In the isiZulu language, the saying Inkunzi Isematholeni means 'the young generation will give us our future leaders, therefore they must be raised to act responsibly", a philosophy taken to heart by Ithala Bank, which is an entity of the provincial government.
Whilst not new in some parts of Africa, Mntungwa was recognised for introducing this cost and water effective method of cultivating an essential crop to South Africa.
Growing potatoes in a sack
"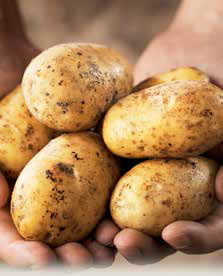 We combine soil, seed and fertiliser in a sack and then add a little water," Mntungwa said. She said the potatoes grow quicker in a sack than with the traditional soil method.
"This farming method can be done on small pieces of land and the potatoes do not need a lot of water because the sack conserves it. There is also no loss of fertiliser and pests and diseases are easier to manage," said Mntungwa.
"I came across this method of farming potatoes while doing research for my studies. We were tasked with looking at how other countries function in the agricultural sector and I discovered that this method was mostly used in Zimbabwe.
"I thought that since South Africa is a water scarce country, maybe farmers could consider using other methods of farming to decrease water usage."
South Africa facing a drought
Mntungwa's discovery comes at a time when the country is facing one of the worst droughts since 1992.
In December 2014, KwaZulu-Natal was declared a disaster area due to the drought conditions the province was experiencing.
Minister of Water Affairs Nomvula Mokonyane recently visited KwaZulu-Natal to assess progress on interventions spearheaded by her department to address the drought in the province.
"The drought we are dealing with is based on low rainfall patterns, issues of climate change, inward migration of people towards economic centres and rapid urbanisation," she said.
She asked municipalities to deal decisively with issues relating to water losses facing the province.
"The amount of water we loose to leaks, illegal connections, vandalism and lack of operations maintenance is unacceptable. We must consolidate capacity in local government to ensure we manage our water resources efficiently to prevent excessive losses due to our inability to act decisively."
The Department of  Water Affairs has invested R352 million to help the province respond to the immediate challenges of water scarcity.
Passionate about uplifting the community
Not only did Mntungwa look at farming methods that save water but she realised that there are a lot of unemployed young people in her community. She gathered these people and started the Sinwabile cooperative to get them interested in agriculture and create jobs.
"I gathered young and old people from the community and told them about my idea to farm potatoes using this module and we started a cooperative."
Deputy chairperson of Sinwabile cooperative Sibongiseni Silabela added that the unemployment rate in the community was very high and it was up to young people in the area to come up with ideas to tackle this.
"At home we have a lot of land that was not being used. Starting this business helped us put the land to good use."
With its first harvest, Sinwabile cooperative managed to produce 250 bags of potatoes which were sold to locals.
Mntungwa said she was delighted that she was one of the winners of the Inkunzi'esematholeni competition because it will help grow the business.
"Part of our prize includes Ithala helping us with resources, capital and information on running a business."
Ithala focuses on green economies
According to Thuli Galelekile, divisional manager of communications and marketing at Ithala bank, Inkunzi Isematholeni Youth in Business Competition focuses on green economy innovations. 
"Ithala's research unit provided an analysis of macro-economic trends covering the key industry sectors in the KwaZulu-Natal province, which highlighted a new and exciting focus on green economy sectors," said Galelekile.  
"A total of 115 entries were received of which 12 finalists were shortlisted for interviews and two were identified as winners. The submissions varied within the technology and green sectors."
Galelekile said the total investment by Ithala into Mntungwa's initiative includes a feasibility study, business plan development and funding of the business idea.
Anybody between the ages of 18 and 35 who resides in KwaZulu-Natal can enter the competition.
For more information, visit: www.ithala.co.za or call: 080 133 1130.