Written by Amukelani Chauke
Local government
Government is taking seriously its commitment to communicate more with citizens.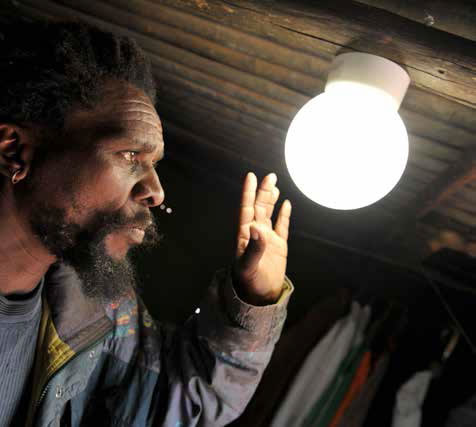 Last year it introduced its Back to Basics (B2B) programme and according to Cooperative Governance and Traditional Affairs (CoGTA) Minister Pravin Gordhan, the result is increased interaction with community members.
B2B, which was unveiled last September, is aimed at ensuring that municipalities go back to effectively delivering basic services like the reliable supply of water and electricity, refuse collection, working traffic light and filled potholes.
In an interview with Vuk'uzenzele, Minister Gordhan said a lot of work has been done by government to improve the quality of service delivery, and that municipalities now interact more with citizens through ward committee meetings. Traditional leaders are now also part of the council forums.
"While B2B has had significant successes, it has not yet had sufficient impact in terms of citizens' experience of local government," he said. 
Strengthening community participation
Minister Gordhan said a significant achievement has been the participation of traditional leaders in council meetings.
The Minister said the six months report of the B2B pillar showed that progress was being made in the main pillars of the programme.
Referring to a report that probed the impact B2B had in its first six months, he said of the 236 municipalities that reported at least once in the six months, 108 had traditional leaders within their jurisdiction and serving on their council in an ex-officio capacity. Some 571 traditional leaders served on these 108 councils.
With regard to the delivery of free basic services, 4.9 million households in reporting municipalities received free basic water each month. About 1.7 million households in reporting municipalities received free basic electricity each month.
The Minister said that as the B2B programme moves into the next phase, municipalities need to work smarter and be innovative in executing their day-to-day duties to increase the impact of service delivery. They also need to interact more with stakeholders and should find ways to ensure information on government programmes filters down to all communities. Social media platforms like Facebook must be better used.
Centralised customer surveys would help determine what municipalities can do to improve their service delivery.
"Additionally, CoGTA will partner with the Government Communications to develop a communication strategy aimed at improved communication from government to citizens … through local newspapers, local radio stations and via text messaging," he said. Interaction with "influencers" – those individuals or organisations in the society that have a high level of influence on public opinion – must also be strengthened.
b2b achievements
Reporting municipalities reported that:
4.9 million households received free basic water

1.7 million household free basic electricity each month.
Engaging communities a high priority
The Minister said that while B2B has enabled government to address several areas of concern, weaknesses in the delivery of basic services remains a reality in many municipalities, and levels of service delivery vary dramatically throughout the provinces.
He added that only a few municipalities have done Citizen Satisfaction Surveys and incomplete and inaccurate municipal data remains a concern.
Challenges:
The quality of diagnostics and analysis of data by national and provincial CoGTAs were not good enough and has not led to effective action to address poor performance.
The lack of capacity and inappropriate organisational structures and work processes in provincial CoGTA departments makes it a challenge to monitor and drive improvements in key performance indicators at municipal level.
The uneven participation of national and provincial sector departments in provincial B2B task teams, and the lack of central coordination and standardisation of work of the provincial task teams, have resulted in problems with quality of information and in the quality of B2B action plans.
Certain B2B actions plans do not address specific key underlying causes of problems in municipalities.
There is an insufficient mobilisation of social partnerships, such as traditional leaders, business and civil society.
There is still a lack of clarity on the role of district municipalities to support their locals.
Central coordination of the B2B approach must be improved.