Written by Cecilia de Vos Belgraver
Sport, arts and culture, youth
Many South Africans passionately want transformation in sport in South Africa. Citizens want equal access to facilities, funding, coaching and to compete at every level.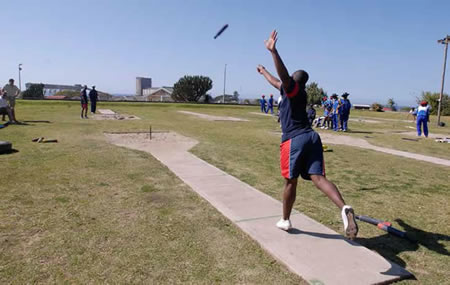 Government shares this passion and is working to achieve change.
"Transformation is about equity and access. … those who are historically disadvantaged must also have access," said Minister of Sport and Recreation, Fikile Mbalula, at a New Age Breakfast Briefing recently.
Dr Willie Basson of the Eminent Persons Group (EPG) and Gideon Sam, president of the South African Sports Confederation and Olympic Committee (Sascoc), participated in the discussion.
Dr Basson said 20 years ago, transformation was a moral issue and many sports people were divided because they disagreed with the use of quotas.
"The bulk of sports people have accepted morally we have to change. The strategic reason has been overlooked: 84 per cent of South Africans are black African and 16 per cent are white, Indian and coloured. The bulk of the population must be focused on to carry the country into the future.
"Nothing happened in black schools and amongst black Africans. We have set ourselves back in terms of exploiting the major source of human capital," said Dr Basson.
Because monitoring is essential for transformation to progress, the minister decided to appoint an independent group to monitor progress in achieving targets.
It is a two-step approach: create equal access and develop a competitive sport system. The EPG oversees this and reports to the minister.
"The emphasis is on school sport as that is where sportsmen come from.
"Our plan is to diversify. Not everybody loves football and cricket. Young kids like basketball and netball. If we diversify, we give them opportunities, we give them options. Boxing is back," said Minister Mbalula.
In support of boxing development, the minister presented a R10 million cheque to Boxing South Africa and the South African National Boxing Organisation at the briefing.
Dr Basson said school level transformation is essential.
"You can't have transformed teams at the top unless there are building blocks at the bottom and there is access. The longer we take to do this the more talent we will lose."
Dr Somadoda Fikeni, EPG chairperson, said interdepartmental coordination is important.
"If Basic Education doesn't introduce sport in schools it won't be developed at the lower levels," he said.
"All federations get allocations from government but these are enough for administration only," said the minister, who thanked corporate South Africa for its support.
The minister said he was campaigning to take over the 15 per cent municipal infrastructure grant because municipalities were not developing sports infrastructure. He wants the municipal grants - about R2 billion a year - to be used to roll out facilities at municipal level.
The minister suggested sports facilities lower their tariffs so that soccer clubs, community development clubs and people in townships can use facilities free if necessary.
Minister Mbalula said much work was being done regarding up-and-coming small sports such as a partnership with the army to develop emerging boxers to get them ready for the Olympics.
Sam said "the federations have embraced change. Everything is in place; all we need is to spend time dealing with it in remote areas."