Over the next few months Vuk'uzenzele will bring you short profiles of Ministers in our Cabinet. This is a chance for you to know your leaders and learn more about what they do.
Minister Jeff Radebe

Minister Jeff Radebe is the second minister of the Department of Planning Monitoring and Evaluation, based in The Presidency.
He took over from the late Collins Chabane who was the first minister of the department.
About the department
The department is responsible for facilitating, influencing and supporting effective planning in government.
It also monitors and evaluates government's programmes. The department is also responsible for measuring the quality of management practices across government. It also manages a programme called Citizen Based Monitoring. This is a program that focuses on citizen's experience of government.
About Minister Radebe
Before occupying his current position, Minister Radebe served as minister in a range of portfolios.
His first position as minister was after the 1994 democratic elections where he served as Minister of Public Works until 1999.
From June 1999 to April 2004, he served as Minister of Public Enterprises and he went to become the Minister of Transport between 2004 and 2009.
After serving the transport portfolio, he went on to become the Minister of Justice and Constitutional Development where he served between 2009 and 2014 before he took over as Minister in the Presidency for Planning, Monitoring and Evaluation.
The Minister holds a B. Juris degree from the University of Zululand obtained in 1976, LLM in International Law from Leipzig University, Germany obtained in 1981 and studied at the Lenin International School, Moscow in 1985.
Minister Nomvula Mokonyane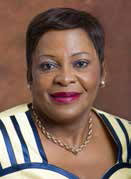 Minister Nomvula Mokonyane is responsible for the Department of Water and Sanitation. This department was once known as the Department of Water Affairs.
About the department
This department is responsible for managing the water resources of the country and implementation of policy governing this sector.
About Minister Mokonyane 
Minister Mokonyane became the minister of the department after the general elections last year.
She brought a wealth of experience to her position as minister. Minister Mokonyane served in the Gauteng Legislature from 1994 in various portfolio committees before she was appointed MEC of Agriculture, Conservation and Environment in 1996.
After leading the Gauteng Department of Agriculture, Conservation and Environment, she was appointed for MEC for Safety and Liaison from 1999 to 2004.
Between 2004 and 2009, she was in charge of the Department of Housing until she was appointed to being the Premier of Gauteng in 2009. She has been the Premier of Gauteng from 2009 until 2014 when she assumed her current role as Minister of Water and Sanitation. She has received training in Local Government and Planning Management and Community Development in Sweden.
She completed a certificate course in Emerging Economics at the Wharton Business School at Pennsylvania University, and studied leadership and governance at Harvard University in the USA.