Written by Noluthando Mkhize
November is National Disability Rights Awareness Month.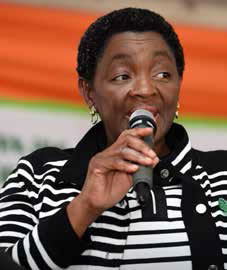 This year's theme is "Celebrating 60 years of the Freedom Charter:
South Africa – a free and just society inclusive of all persons with disabilities as equal citizens".
Minister of Social Development Bathabile Dlamini added that prior to 1994, persons with disabilities had no rights.
"They had no recourse even if they were denied basic services such as education, health, rehabilitation and social grants on the basis of race, geographical location, gender, age or ability, as these were believed to be privileges of a few," she said during an interview with Vuk'uzenzele.
This lack of access to certain rights only served to inspire persons with disabilities to take action, and the release of the Disability Rights Charter of South Africa in 1992 set the tone of how disability was to be approached in our new democracy.
 "We salute the disability rights activists in general, and Disabled People South Africa in particular, for the revolutionary work done before and after the 1994 elections in securing the rights of persons with disabilities as equal citizens," she said.  
She added that the Department of Social Development works closely with the departments of health, basic education and higher education and training, among others, to ensure that persons with disabilities have access to and can participate fully in school and university life.
"We are happy to report that significant progress has been made. There are currently more children with disabilities enrolled in ordinary community schools than in special schools."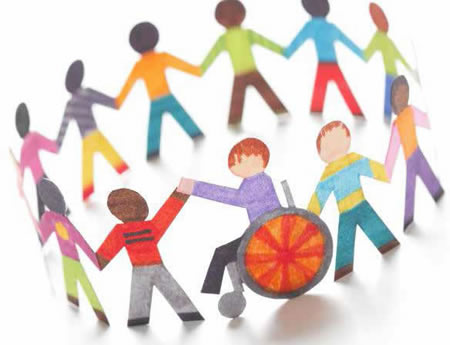 Minister Dlamini raised concerns about the quality of education and support that persons living with disability receive.
"These services are important for full access to the learning process. We believe, however, that the policy launched by the Department of Basic Education in December 2014, which formalises the system of screening, identification, assessment and support services in the education value chain, will address these shortcomings significantly."
The minister added that her department was working with the departments of  health and basic education to ensure that the service also extends to early childhood development programmes. 
Another milestone in the development of persons with disability was the introduction of South African Sign Language into the curriculum of schools for deaf learners at the beginning of 2015. 
Minister Dlamini is also happy with progress being made by the Department of Higher Education and Training in ensuring the inclusion of students with disabilities in universities and, increasingly, in TVET colleges. 
"The establishment of Disability Rights Units at these institutions, tasked with coordinating and providing reasonable accommodation support to university students, and the availability of funding through the infrastructure grants to make university campuses physically more accessible, is definitely yielding results."
Approval of the White Paper on the Rights of Persons with Disabilities
Minister Dlamini said Cabinet would soon finalise the White Paper on the Rights of Persons with Disabilities.
The White Paper supports measures that will hold the private sector, government and civil society accountable on the rights of persons with disabilities. It will also strengthen recourse measures for persons living with disabilities whose rights have been violated.
"Government has therefore been working on strengthening its coordinating and consultative mechanisms, policy frameworks and planning, monitoring and evaluation systems.
"These actions will culminate in the Cabinet approval of the White Paper on the Rights of Persons with Disabilities before the end of 2015."
Disability Month, launched on 3 November, has a full calendar of events taking place including: 
The commemoration of International Day of Persons with Disabilities taking place on 3 December
The INSETA National Disability Awards taking place on 2 December
Activities during the Month will:
Provide a platform for government, civil society, business, labour and the media to celebrate, showcase and dialogue on progress made over the past 20 years in promoting and protecting the rights of persons with disabilities
Isolate remaining challenges that hinder the building of inclusive caring societies where the contributions of persons with disabilities are valued and ensured
Foster consensus on priorities to be addressed in the next five years, including re-positioning and packaging messages that promote disability as a primarily human rights issue.
Look out for other events to commemorate the Month taking place in your area.