Unlike most of her peers, Thato Moagi is not fazed by fashion or the glitz and glamour of city life. At her age, she should be dressed in stilettos, power suits and working in an air conditioned office somewhere. Instead, this 24-year-old prefers chasing cattle, dipping goats, working the soil and driving a tractor.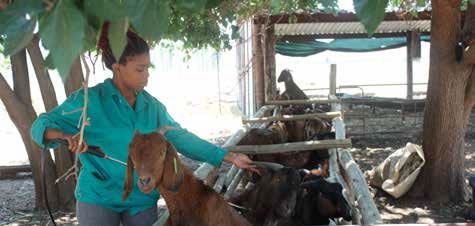 Moagi has always had a passion for farming and she knew that one day she would manage a farm.
"As a child I always had an interest in animals. At one stage I wanted to become a veterinarian  (vet) and I went to the University of Pretoria to study a degree in Veterinary Science but later changed to a Bachelor of Science degree in plant science.
A vet is a professional who studies treats animals.
"My studies opened my eyes to opportunities in agriculture."
She did her degree between 2009 and 2013.
After completing her studies, she told her father about the many opportunities available in the agricultural sector. Fortunately, while she was still at school, her parents had already started to apply for funding from government to start a farm.
"They had been applying for funding for a long time and they became despondent because they were not getting the opportunity to get land."
Her parents decided to take a risk by cashing in on all their life savings to buy a 48-hectare sheep farm in Modimolle, formerly known as Nylstroom, and named it Legae la Banareng Farm. Banareng is their clan name.
The family moved to the farm in January 2014 and they have not looked back.
"For most of last year, I was working really hard to get the infrastructure set up and to get this place to a point where we can say it is an operational farm," said Moagi.
Moagi practices mixed farming, breeding Boran bulls, cattle, Kalahari goats, Dorper sheep and growing potatoes and mealies.
Currently, she supplies a well-known international frozen foods company with potatoes. 
"Because of the size of the farm, we decided that we needed to do mixed farming to get as much as we can out of the land. That required us to have seasonal projects in order for us to get seasonal income."
Moagi said getting the farm to where it is today was not easy.
"One of the challenges is that some of the people that work on the farm are older than me and giving them instructions as a young woman can be challenging at times."
Currently, the farm employs five permanent employees and 10 seasonal employees.
She said to deal with the challenge, she asked for mentorship from her neighbour farmer who now helps her a lot with managing the farm.
"In this type of business, you need someone with experience to show you the way. It's a tough environment and a helping hand goes along way."
The farm has only been running for a year, but Moagi has already made waves in farming by winning the provincial award at the Female Farmer of the Year Awards for Limpopo, being crowned Top Producer for National/Export Markets and receiving R150 000 in cash.
Currently, Moagi is in talks with the Limpopo Department of Agriculture for financial backing to expand the farm. She is also awaiting feedback from many potential backers, including Anglo American and the AgriSETA.
Moagi said it's time for young black farmers to get up, and do things for themselves.
"Government cannot do things for us all the time, we have to play our part and help government, especially us as young, black emerging farmers."
For more information on agricultural programmes in Limpopo call the Limpopo Department of Agriculture and Rural Development: 015 294 3000 or visit: www.lda.gov.za
For training and skills development call the Agricultural Sector Education Training Authority call: 012 301 5600 or visit: www.agriseta.co.za