Written by Lelethu Manentsa
A sense of elation filled the air at the Sthembile Town Hall in Glencoe, KwaZulu-Natal, as it was packed to capacity with eager recipients of the land claim.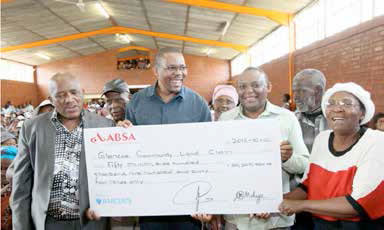 During the 1960's, the people of Glencoe were forcibly moved from their place of residence to neighbouring townships by the then apartheid regime.
The land claim of the community of Glencoe was gazetted in April 1994 with the first approval in 2007 and 2011 respectively.
Phase 1 in 2007, verified 320 tenants with the total monetary value of R11 688 960.00 and Phase 2 verified 133 former Glencoe Land owners with a total monetary compensation of R13 839 528.00.
Member of Executive Council (MEC) Cyril Xaba advised thebeneficiaries of the Glencoe land claim  to preserve the land for future generations and to invest the compensation in land for agricultural activities as this will not only guarantee food security but financial freedom as well.
MEC Xaba said the hand over is an indication that government works for the people and will do all in its power to reverse the legacy of apartheid.
"The government is also committed to non-racialism and reconciliation and to repair the damage caused by Legislation such as the Group Areas Act, which isolated communities in racial zones."
He handed over a cheque amounting to R50 300 964.00 to 522 households with 1 300 beneficiaries.
"Today is a happy occasion as the current democratic government has made good on its promise and is giving out financial compensation of over R50 million to 522 land claimants here in Glencoe. While this is a joyful event, I cannot help feeling a sense of sadness at all that has been lost over the years.
"For me the biggest loss, not just to you as a community, but to South Africa as whole, is how these forced removals caused a breakdown in good race relations."
He added that the provincial government is committed to helping people who a victims of being disposed from their land.
This shows that the current South African democratic government is committed to ensure that there is redress for families of land dispossessions.
*Lelethu Manentsa works for the KZN Department of Agriculture & Rural Development