Students with disabilities will soon be able to move around with ease and have more access to universities and Technical, Vocational Education and Training (TVET) colleges.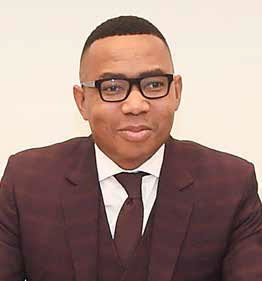 The Department of Higher Education and Training is finalising a policy, which will see all universities and TVET colleges establishing a Disability Unit to address challenges confronting students with disabilities.
Higher Education and Training Deputy Minister Mduduzi Manana said the issues of access and institutional practices have failed to consider the learning needs of persons with disabilities and their support needs continue to be a barrier to this sector.
"Through the policy, the new subsidies and grants put on infrastructure must ensure that the structures have ramps and desirable for students to function and work around his/her way on campus. The policy will also focus on many areas seeking to create an enable environment for learners with disabilities," Deputy Minister Manana explained.
The Deputy Minister was speaking during a recent visit to Adelaide Tambo School for the Disabled in Dobsonville as part of his nationwide campaign to promote post-school opportunities for learners with disabilities.
The school caters for learners who are physically challenged but mentally sound, learners who experience barriers to learning from mainstream schools and also learners from mainstream (inclusion).
During the visit, learners were exposed to various career opportunities they can pursue after completing matric.
Representatives from National Student Financial Aid Scheme, University of Johannesburg, Sector Education and Training Authority and South West Gauteng TVET College, shared with learners information on how to access funding, learnership and internship programmes, amongst others.
Integration of people with disabilities
Deputy Minister Manana said government is serious about the integration of people with disabilities into the mainstream.
"We believe that this cohort of young people should be the integral part of development. They should partake in what their counterparts in the mainstream are doing, unlike in the past, where parents hide them from the society because they were isolated.
"We want to reinforce what the teachers always tell them, to study as the world is waiting for them and we want them to share what they are made of. The sky is the limit," the Deputy Minister said.
School Principal Lindela Memani thanked the Deputy Minister for the visit, adding that when government offers subsidies or grants, they take advantage of the opportunity.
"We are motivated and encouraged. Your presence is going to help us to be more integrated in our community," said Memani.
Learner Representative Council President Nomcebo Mkhize said the visit and information shared was empowering and enlightening for learners.
"We will put into practice everything that was shared. Even though as people with disabilities, we are facing a number of challenges, we appreciate government's efforts to ensure that our needs are being considered," said Mkhize.