Maria Swele, a Limpopo-based farmer,  is an example of what can be achieved if you have passion and a desire to bring change in your community. Swele was a sunflower farmer until she realised there was greater potential in farming cotton.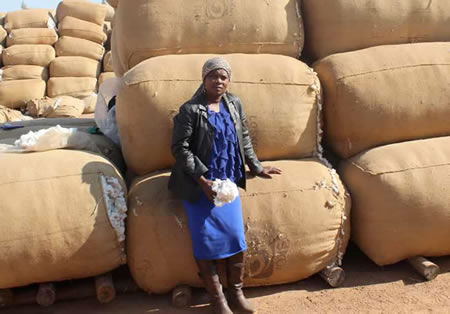 Between 2004 and 2008 Swele specialised in planting sunflowers but after attending cotton farming training courses she decided to make the switch.
"There was a training course done by Cotton South Africa at Tompi Seleka, an agricultural college in Limpopo. I realised that cotton has more opportunities than the other crops we were planting and I'm now focusing on cotton only," she said.
Swele completed her matric in 2002 and then completed a computer course at the University of the Witwatersrand.  In 2003 she completed a short course in financial management in Dennilton.
The knowledge and skills that she gained while doing the different courses are helping her cotton business.
The courses also helped her with networking because the more courses she attended the more access she had to people that are involved in cotton farming. This helped to grow her love of cotton farming.  
Today Swele owns a 32-hectare farm that produces cotton, maize and peanuts and sells her products to local customers and those beyond her Maklerekeng Village.
Swele employs 112 people, comprising 105 women and seven men. Of these, 22 are permanently employed, while the others are seasonal workers.
She sells her cotton at Loskop Cotton and the money that she has made has helped her build her own house, pay for her children's education and helped other farmers financially.
"With the little that I make, I've helped some up and coming farmers financially and they managed to plant four hectares of cotton."    
Though she is running her business successfully, Swele said it has not been an easy road. One major challenge she faced was planting in a dry region.
Her advice to other female farmers is to ask for advice, especially from people who are already established in the business.
"When you face challenges don't sit and keep quiet, go to other farmers, talk to them and seek their advice, especially those with experience."
She said in the next few years she is determined to grow her business and employ more people on a permanent basis.