The number of students studying at the University of Mpumalanga (UMP) is set to increase in 2017.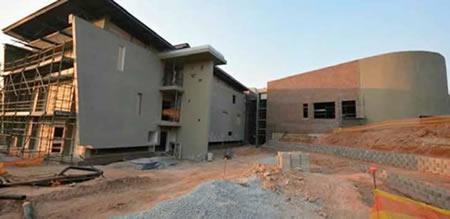 Construction at the University of Mpumalanga (UMP) is well underway with enrolment at the university expected to grow to 1 550 students, according to the Department of Higher Education and Training.
This as Deputy Minister Mduduzi Manana visited the university recently.
In February 2014, the university opened its doors in existing buildings, some of which have been refurbished, with an initial enrolment of 169 learners.
"The next phase of infrastructure development, which will begin towards the end of this year, will enable enrolments at UMP to increase to 1 550 students (500 at Siyabuswa and 1 050 at Mbombela) in the 2017 academic year," said the department.
During the visit, the Deputy Minister was also informed that the UMP has a full Council and permanent Vice-Chancellor.
In 2014, the first undergraduate students of UMP enrolled in three qualifications - a Diploma in Hospitality Management, Bachelor of Agriculture in Agricultural Extension and Rural Resource Development, and Bachelor of Education in Foundation Phase Teaching.
Other highlights at UMP this year include the launch of a new qualification, the Diploma in Information Communication Technology, in Applications Development, and enrolled its first students into the Diploma in Agriculture in Plant Production that had previously been offered by the Lowveld College of Agriculture.
In 2015, UMP enrolled 864 students across its campuses in Mbombela and Siyabuswa.
In addition, from October 2014, the first phase of the major new construction started. Three new multi-storey buildings are currently under construction, and will be ready for occupation early in 2016.
"These new buildings, will enable an enrolment of 1 160 at UMP in the 2016 academic year," said the department.
At Mbombela, the facilities currently under construction, include three buildings which will be ready for use in January 2016, students residence buildings to accommodate 240 students including common amenities and study spaces; as well as a multi-purpose building with a large auditorium (250-seater), among others.
At the Siyabuswa campus, the developments include renovation undertaken in 2013 and 2014 of existing teaching facilities, six student residence buildings, a student centre, canteen and games room, among others.
At UMP Mbombela Campus, the second phase of new buildings will include the executive offices building at the entrance to the main campus with meeting rooms and university council chamber; a library and student resource centre.