Written by Thandeka Ngobese
The new R20 million state-of-the-art Manxili Clinic in Nquthu, KwaZulu-Natal, will bring much-needed relief to the 13 000-strong rural community.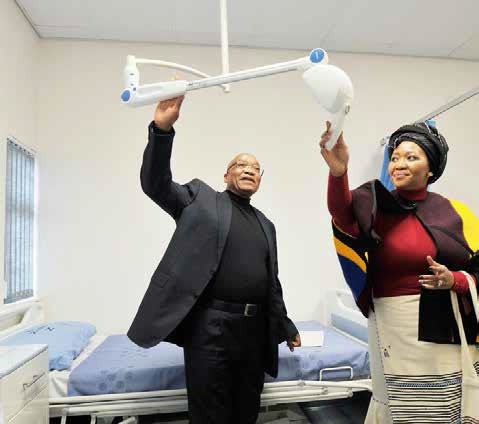 Previously, community members had to wait for a mobile clinic to visit the area once a month or travel nearly 10km to Mangeni Clinic, mostly on foot, to access health care services. The mobile clinic would travel from the mother hospital, Charles Johnson Memorial Hospital, which is situated some 62km away.
Community member Maqili Buthelezi said if he missed the mobile clinic date, he had to spend R54 to collect his medication from Charles Johnson Memorial Hospital.
"This new clinic provided to us by our government is going to help us a lot and we are very grateful for it," he said.
Residents in KwaZulu-Natal are able to access health services from 72 provincial hospitals, 25 nursing colleges and 18 community health centres.
The Manxili Clinic, which was officially opened by President Jacob Zuma recently, complies with government's Operation Phakisa model of being an "Ideal Clinic", which demands adherence to service excellence in accordance with national health core standards.
The opening was also attended by the Deputy Minister of Health Dr Joe Phaahla, KZN MEC for Health Dr Sibongiseni Dhlomo, members of the KZN Health Portfolio Committee, and representatives of the Joint United Nations Programme on HIV and Aids (UNAIDS), Mayors, Councillors and Amakhosi.
The clinic will enhance government's efforts to fight the burden of disease, which includes the spread of HIV and Aids, TB infections and mother and child mortality and morbidity in uMzinyathi District.
Deputy Minister Phaahla said at the opening that the department is acting on President Zuma's instruction to follow the mandate of the National Development Plan, which says that for South Africa to develop, rural areas must be developed alongside urban ones.
"The goals of the National Health Insurance plan will not be met if we do not ensure that our rural health services are improved, and are of good quality," said Deputy Minister Phaahla.
Healthcare in the province varies from the most basic primary health care, to provincial hospitals. These facilities don't only provide health service, but the nursing colleges in the province also mean that the public health system can be given a boost as new nurses qualify.
 The building of Manxili Clinic is the result of a partnership between the Department of Health, the Tobeka Madiba-Zuma Foundation and the community.
A total of R20 million was spent on the construction of Manxili Clinic. The Department of Health's own contribution for the clinic and residences amounted to R 16 203 474. 41, while furniture and equipment for the entire project cost R 1 624 219. 87. The Tobeka Madiba-Zuma Foundation contributed over
R2 million.
Deputy Minister Phaahla also pledged to ensure that the clinic upholds the national health core standards, which demand adherence to cleanliness, infection control, reducing long queues, availability of medicines and other essentials, security and safety of staff and patients, as well as a positive attitude of staff.
Since Manxili Clinic started operating, 72 100 male condoms have been distributed and 107 patients have received reproductive health services.
Manxili Clinic provides health services such as antenatal care to pregnant mothers, cervical cancer and TB screenings, HIV testing and counselling.
Health facilities in KwaZulu-Natal
72 provincial hospitals           25 nursing colleges          18 community health centres