Written by Noluthando Mkhize
The automotive sector may be seen as a man's world but Soshanguve resident Nelly Nekokwane is determined to make her mark on it.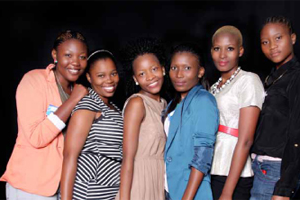 Nekokwane is currently in Dubai, expanding her knowledge about making car parts, thanks to the Automotive Industry Development Centre (AIDC).
After completing N6 in civil engineering at the Johannesburg Technical College in 2011, Nekokwane could not find a job.
Last year she saw an advertisement by the AIDC, calling for young women with an interest in the automotive sector to apply for a two-year training programme.
The AIDC is a subsidiary of the Gauteng Growth and Development Agency, which is an agency of the Gauteng Provincial Government. It was established to increase the global competitiveness of the South African automotive industry by focusing on enterprise development, skills development and training.
Applicants for the training programme had to have passed mathematics, physical science and English in matric.
Nekokwane applied, was accepted and is now among 32 young women receiving training related to the car manufacturing sector at a Motherson Sumi Systems Limited's manufacturing plant in Sharjah, Dubai.
Motherson Sumi Systems Limited is a global leader and the largest automotive component manufacturer in India.
The women left for the training programme in March.
Nekokwane is excited that she was selected.
"When I did not qualify to get into university I realised that it was not the end for me, there were other options. It was especially important for me to have a career in scarce skills so I could help develop the country. I am very happy for this opportunity and hope that government will continue to make such opportunities available for women."
Nekokwane said that while it was tough being unemployed, she knew she had the skills to become an artisan.
She was also excited about being in a new country and receiving valuable experience and exposure in the automotive industry.
The women will receive training in vehicle component manufacturing and cable harness. Cable harness, also known as a wire harness and wiring assembly, is the assembly of cables or wires, which transmit signals or electrical power.
AIDC CEO Barlow Manilal hoped that on their return, the women would help turn Gauteng into a hub of automotive manufacturing.
"We are actively involved in building a talent pipeline within the youth of Gauteng to meet industry needs. This initiative will have a positive effect on skills, development and training in the automotive sector in general."
He added that the youth would benefit from the course by receiving training at an international level.
Gauteng MEC for Economic Development Nkosiphendule Kolisile said the initiative was aimed at ensuring that young women from disadvantaged backgrounds were empowered with skills and training to enhance their career opportunities.
"It also presents us with a unique opportunity to transform the automotive industry, which is still a male dominated industry. It also bears testimony to the Gauteng Provincial Government's commitment to young people in this province," he added.
For more information on the AIDC, contact its industry development manager Dineshan Moodley on 012 564 5285 or email

dmoodley@aidc.co.za