Sport, arts and culture
Amanda Tobo grew up in an Eastern Cape village where no one took acting and the arts seriously, let alone attempted a career at it.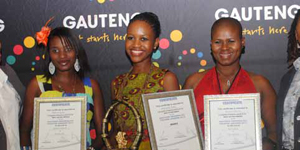 But Tobo, 26, did not let the attitude of others side-track her from her dream, leaving all of it behind to become an award winning actress.
Like many other ambitious young people from across the country, she was consumed by her will to succeed.
That determination saw her packing her bags, leaving the dusty village of Bizana and making the long trip to the City of Gold (Johannesburg) to chase her dream.
Two years down the line, Tobo has made significant progress in chasing that dream and was named Best Female Actress at the annual Ishashalazi Theatre Awards held at the Carletonville Civic Theatre recently.
The Ishashalazi Theatre Awards is an initiative of the Gauteng Department of Sport, Arts, Culture and Recreation, in partnership with the Gauteng Theatre Practitioner's Committee, and is aimed at rewarding excellence in the performing arts.
At the awards, Tobo walked away with R10 000 and a trophy for her role in the play It's a Wrap. She outperformed other actresses despite only making an entry in the 2012/13 season of the developing theatre programme.
"This is a great honour to be recognised for my work on Ishashalazi Theatre programme. The platform has given me an opportunity to boost my confidence as a performer in order for me to take my art to greater heights. I hope it will open doors for greater things in the future and help me make my mark in this tough industry," she said.
As an up-and-coming artist, Tobo wants to see more government help for struggling new artists.
"There are a lot of challenges in the industry and its tough, especially for us new artists. Although government is doing something, I wish they could do a little bit more," she added.
Eddie Matladi, 31, from Daveyton won the Best Male Actor Award for his performance in the production Silver Coat and Black Stick. Matladi was judged as the best during the Ishashalazi Theatre festivals held in December 2012 and again in February this year at the Soweto Theatre.
Other winners included:
Best Production: It's a Wrap directed by Thembeni Joni (R50 000 in prize money).
Best Supporting Male Actor: Sibusiso Mashwayi for Moral Dilemma (R6 000).
Best Supporting Female Actor: Mpho Motjopi for Reflections in the Mirror (R6 000).
Best Script: The System written by Alex Motswiri (R15 000).
Best Director: Alex Motswiri for The System (R12 000).
Best Set Design: Silver Coat and The Black Stick (R10 000).
Most Promising Production: Pitsa Diatsha directed by Lebeko Nteku (R15 000).
Against All Odds Award: Basetsana Moruakgomo (posthumously) for the script: My Best Friend's Ghost.
Lifetime Community Theatre Development Award: Bongani Linda for work done with Victory Sonqoba Theatre Company (R20 000).
The Basetsana Script Writing Award, with a R10 000 prize, went to Salome Sebola for her script on the play titled Truth. The award culminates from the Ishashalazi All Woman Script Writing Workshop that is aimed at empowering women script writers and directors.