Written by Samona Murugan
Determination and hard work are some of the characteristics that have driven Neo Kuaho and Khensani Peters to succeed.
The two are among 25 entrepreneurs chosen by the National Youth Development Agency to jet off to the United States, Germany, Italy and Spain for six weeks of business mentorship training in May, as part of the Young Entrepreneurs Programme (YEP).
The aim of the programme is to provide opportunities for young business owners to acquire business skills and knowledge and to learn business theory through workshops, lectures and online training, giving them the skills needed to grow their businesses.
Neo Kuaho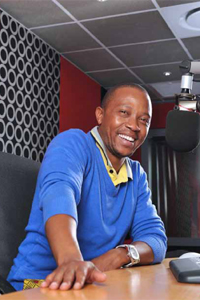 Kuaho is managing partner of Letshoao Consulting and founder of the Youth Development through Investigation and Dissemination of Information (YDIDI). YDIDI is a platform used by Letshoao Consulting and Y-FM to collect, investigate and distribute information to the youth and businesses. The aim of the initiative is to provide the youth of South Africa with information on career opportunities.
Kuaho, who is from Soweto, spent his childhood in Chavhani in the former Northern Trasnsvaal. He attended Edendale Primary School and matriculated from Westridge High in 1999.
He then studied software development information technology at the Tshwane University of Technology.
While on campus, sporting funky dreadlocks, his flair for fashion and uncanny ability to talk his way through just about anything, landed him a few odd jobs that helped him pay his way through university.
He began teaching new students the basics of information technology and programming and soon landed a job as assistant to the head of department. In his final year of study, he received an internship at Ernst and Young as a quality analyst.
Kuaho then joined Lexpro Stelsels in Pretoria, as the company's first black programmer. There he developed and maintained software for attorneys, trained and equipped clients in basic computer literacy and software skills, and sold and marketed software to emerging black-owned law firms.
He eventually landed the company accounts of two of the biggest black-owned law firms in Pretoria.
Because of his outstanding achievements, he was approached by the company's CEO to start up and operate Letshoao Consulting, a baby company of Lexpro Stelsels.
While managing the company and the woes that came along with it, he conceptualised YDIDI.
"Little did I know that this idea would grow its own legs and be a modern-day revolution of some sort," he says.
The idea of helping thousands of unemployed youth came about while Kuaho was in a taxi on the way to work. He bought The Star newspaper and stumbled across an advert in the business section inviting Grade 12 learners to apply for a bursary and training in IT worth R65 000 with a guarantee of employment after training.
"As I sat there in the taxi trying to recollect if any of my friends had siblings with whom I could share this opportunity, it dawned on me that this opportunity would surely be missed by most of the people for whom it was targeted.
"I mean how many minimum wage earning parents or disadvantaged youths actually read the business section of The Star – especially the share prices section, let alone buy the paper?"
That's when the idea of creating and circulating emails about jobs, bursaries, business and opportunities for the unemployed and disadvantaged youth was born.
He decided to start a platform that would research, investigate and distribute opportunities to as many media platforms as possible.
After three hours at the office he had researched how to draft a winning proposal, created one and sent it to Y-FM. An hour later he received a call from the radio station, which loved the idea and wanted to start a programme as soon as possible.
The first YDIDI show was aired on 25 April 2009. Since then YDIDI has helped hundreds of youths obtain bursaries, internships, learnerships and find employment, while others have received lucrative contracts for their businesses.
Besides producing and co-hosting the YDIDI show, Kuaho manages Letshoao Consulting which provides a range of services such as software application solutions, business development strategy and mentors youth in business.
He is also a motivational speaker and was recently appointed to develop and manage the Y-Business Elevator, a CSI initiative aimed at incubating young businesses and accelerating their road to profitability, sustainability and success.
For more information on YDIDI, catch the show on Y-FM every Saturday between 8am and 9am or visit the

YDIDI website
Khensani Peters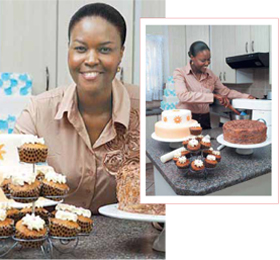 Peters, 34, took the risk of a lifetime by giving up her steady job to pursue her passion of baking and hasn't looked back since.
Peters worked as a computer programmer for six years but felt like she needed a new challenge. She loved baking from a young age but never imagined she would one day sell her own creations.
Nonetheless, Peters decided to test the market by selling her homemade cakes at the office tuckshop.
"I would drop off a few cakes, three dozen scones and a batch of muffins at the tuckshop each morning and when I'd check back at the end of the day, everything would be sold out. It was encouraging to go home with empty Tupperware, knowing that someone had bought and enjoyed what I'd whipped up," she says. Peters toyed with the idea of starting her own baking business but didn't want to give up her steady job that also came with a steady pay cheque so she baked in her spare time.
"At the end of every month, I'd use what was left of my salary to buy the equipment I needed – the first piece I bought was a Kenwood major mixer for R3 000."
Gradually, Peters began filling her kitchen with appliances and had a good collection of faithful, flop-proof recipes from family and friends. However, she admits her cake decorating skills needed work.
"A friend told me about Hilda Kemp, owner of Hilda's Cakes. I contacted her and she agreed to share her secrets with me. I resigned from my job and for three months devoted my time to decorating cakes under her mentorship."
Peters was finally ready to launch her business - Ntshovelo Cakes. Word of mouth really worked and soon orders were streaming in. She now bakes cakes for a variety of occasions from weddings to baby showers.
She currently employs one person but is looking at getting a bigger premises and hiring more staff to help with the orders.
Peters bakes cakes full-time from her home in Midrand, Gauteng and even though she sometimes works 24 hours a day she loves what she does.
Her dream is to open a coffee shop where people chat about the cakes they would like her to create. Her advice to young entrepreneurs is simply: "Don't get into debt by taking out loans. Start small and buy equipment and stock as you grow".
Being chosen as a YEP candidate is a dream come true for Peters.
"I have always wanted to go overseas and this programme gives me the chance to interact with business leaders and mentors from more advanced companies. It will allow me to learn a lot of new techniques and discoveries within my industry and bring the technology and skills back home where I can apply it to my business and teach young and upcoming cake decorators and makers as well," says Peters.
For more information on Khensani Peters visit her

website

.