Written by *Capt MK Marumo
The price of a pirated DVD at the side of the road might seem appealing, but giving in to the temptation to buy it makes you just as guilty as the illegal vendor.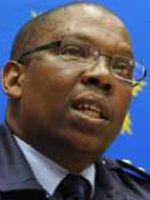 That was the warning from Gauteng's Police Commissioner Lieutenant- General Mzwandile Petros recently, when police destroyed thousands of counterfeit goods in the province.
He appealed to South Africans to rather go to a legitimate retail store for genuine articles - whether it was a DVD, CD or clothing.
Piracy was a crime against the country's economy, negatively affecting the economic growth of the province and country, Lieutenant- General Petros said.
Counterfeit goods and about 294 000 DVDs were destroyed by Gauteng police.
Jacques Allers of the South African Federation Against Copyright Theft, stressed the importance of partnering with the police to fight piracy.
"Our partnership with the police has resulted in the reduction of piracy which, in the past, was common business on the streets. Many artists are left poor because their efforts are stolen and sold cheaply on the streets," said Allers.
Eugene Mthethwa of the famous Kwaito group Trompies said that he stopped doing what he used to do best because of the high rate of piracy in the country.
"Piracy killed the love I had as an artist. I now do a nine-to-five job to support my family because the music industry is under a dark cloud of piracy," he said.
Mthethwa, who was a victim of crime recently when his house was broken into, also praised the men and women in blue for their hard work and called for them to be taken care of.
"These men and women [police] need to be looked after like any other citizens. Before they wear their uniform, they are mothers and fathers who are loved by their families. We need to stop police killings," he added.
More than 3 000 illegal guns and knives were also destroyed in Vereeniging, making Gauteng a little bit safer.
AK-47 rifles, shotguns, rifles, pistols, revolvers and homemade firearms were among the weapons that went into the smelters.
* Capt MK Marumo works for SAPS.