From the main road connecting South Africa and Swaziland, it's a 2km drive on an uneven, rocky road to the Forbes farmhouse on Athole Farm.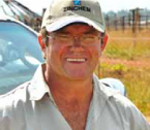 Located in a dense pine forest in Amsterdam, Mpumalanga, about 60km outside Piet Retief, roaring tractors, heavy machinery, mooing cattle and singing birds are familiar sounds on this 5 600 hectare property that farmer and physician Dr Colin Forbes calls home.
The coal-rich farmland has been passed down from the one generation of his family to the next since 1860, a number that is clearly visible on the front of the farmhouse just above the door.
Athole Farm is not only home to the Dr Forbes and his family. It is also home to over 60 families of farmworkers who have been living on the farm for generations. Just like Dr Forbes, the majority, if not all the workers were born, raised and are currently working on the farm.
In 2012, Dr Forbes took a major gamble when he started his own land reform project by turning his farm into a training centre for his employees.
He gave 10 percent of his 5 600 hectares to 34 workers to plant maize, soya beans and potatoes.
"I've always seen this as more of a swap than a donation," he said about the initiative.
Dr Forbes has set himself the target of turning five of employees into commercial farmers in the next five years.
"In five years' time, I will be happy with the successful emergence of perhaps five individuals from the entire group having made the grade of running an independent commercial farming operation."
From the onset, he had confidence that he was doing the right thing.
"Though there are risks attached to any new venture, I have never had the view that this initiative could fail. My greater fear has been for the consequences of doing nothing proactive about land reform. This initiative enjoys full buy-in from me and the beneficiaries," he explained.
One of the reasons he "swapped" the land with his employees is to allow them to benefit from land reform, to establish an 'agri-village' and to mentor them.
Forbes said his gesture was also a response to government's call to assist with land reform.
"This is my pragmatic response to government's call and I feel the responsibility to ensure that farmworkers on this farm and other farms in this country are not left behind in terms of enjoying the benefits of a democratic South Africa."
Dr Forbes invested R238 000 of his own money to get the training off the ground. This money covered the costs of seeds, tools, fuel supply for tractors, fertilisers and pesticides.
A year later, Dr Forbes's gamble paid off with a good harvest. Each of the 34 workers made a profit of R8 600 from their allocated land. They each had to pay Dr Forbes the R7 000 interest-free loan to cover the R238 000 he invested in the project.
"I am attempting to present a blueprint for achievable and replicable land reform to fellow farmers. I believe that it is only through the emergence of black commercial farmers that there can be successful land reform in this country," he explained.
Dr Forbes called on other white farmers to embrace his land reform initiative.
"My message to other white farmers is that the time for being in denial about land reform is over and this is a plan that I think could work if implemented correctly."
Dr Forbes's initiative has impressed the National Empowerment Fund (NEF), an agency of the Department of Trade Industry that supports and funds black empowered businesses.
Emmanuel Mohlamme, the agency's spokesperson, said the NEF had visited and made an assessment of the farm.
Mohlamme added that initiative could be a worthy investment and the NEF would consider funding it if Dr Forbes approached the NEF for financial assistance.