Written by Samona Murugan
Printed textbooks in South Africa could soon be a thing of the past, if Sunward Park High School is anything to go by.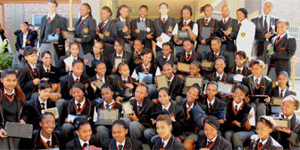 The Gauteng school is leading the revolution to a better teaching and more efficient schooling system, by throwing out textbooks and bringing in computers instead.
The 1 200 learners at the school now use tablet computers to read the e-textbooks needed for their lessons.
The revolutionary e-learning initiative was launched by the Department of Basic Education in partnership with Modern Information Business (MIB) recently.
According to Basic Education Deputy Minister Enver Surty, e-textbooks give teachers and learners the ability to log onto a massive portal, which contains all the books they require for each subject.
This portal was created by MIB, a company that aims to use information communication and technologies (ICT) in education to empower South African communities.
Sunward Park, in Boksburg, is the first fullyfledged e-learning school in the country, while others are in the process of getting there.
According to Zakhele Sibeko, a teacher at the school, e-learning is what learners in the country need to prepare them for further studies at tertiary level.
"It makes life easier for us as well as the learners. All the information we need can easily be accessed from the educational portal provided," he said.
"Through these tablets, learners can now explore different sources, download various information of the same content which has been taught in class, and can even explore more learning resource through the portal," Sibeko added.
E-learning has also brought the fun back into the classroom, according learner Faith Makgoba.
"The e-textbooks in our classes has made learning easier and more fun," she said. Makgoba added that the initiative had also saved her from carrying a school bag filled with heavy textbooks to school everyday.
"We can now access previous question papers, which will help us with our exam preparations. We also are no longer limited to the resources provided at the school. The tablets allow us to access all our e-learning subject material," she said.
For the initiative to work, teachers needed to overcome their fear of technology, Deputy Minister Surty pointed out.
"Teachers need to embrace technology in teaching in order to make the ICT work. As a department, we have already digitised all our learning materials and this material is accessible from the Thutong portal (a hub on the department's website that houses all learning and teaching material) to all learners and teachers in schools," he added.
For more information contact the department on 012 357 3000 or go to

www.education.gov.za