Written by *Melitah Madiba
Sport, arts and culture
Emerging soccer stars in Mogale City, Gauteng are one step closer to making their dreams a reality thanks to a partnership that brings sports academies to life.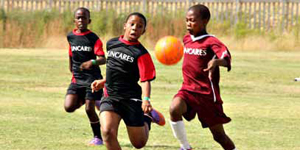 Now in its fourth year, the Suncares Sports Academy is a soccer programme that provides young learners in Mogale City with a full year extra-curricular programme. The programme is joint venture between Tsogo Sun, Mogale City Municipality, the Departments of Education and Sports, South African Football Association (SAFA) and South African Schools Football Association.
Working with community business and organisations, the programme provides a comprehensive school sports programme to more than 900 learners and 40 school coaches.
It includes season opening and closing soccer tournaments, inter-school leagues run weekly for six months, coaching the coaches programmes as well as a development academy for talented players.
The most talented players from each age group are also provided with an opportunity to participate in a SAFA affiliated league each year.
In addition, the programme contributes to economic development in the community by making use of local suppliers from the greater Kagiso community.
Speaking at the recent launch of the annual tournament held at the Lusaka Sports Complex, sports coordinator Lucky Moetlhoa said that the programme had benefits to learners both on and off the field.
"The programme helps in guiding and moulding the learners into responsible and disciplined youngsters. Here they are taught about respect, building friendships, team building and the importance of education. I am also happy with the programme as it keeps the kids off the streets even during weekends and school holidays," Moetlhoa said.
Soccer legend Lucas Radebe echoed Moetlhoa's sentiments, stressing the importance of keeping a good balance between schoolwork and football.
He described the programme as a great initiative, saying the nurturing of future stars needed to start the grassroots level.
"Soccer is not only about playing, but it adds values such as respect, team work and persistence. These are some of the values that they will be able to use later in their lives," Radebe said.
Also at the launch was Miss Earth South Africa Tamerin Jardine who urged the learners to always be optimistic and follow their dreams.
"Being dyslexic, I was told I will never succeed in life but through hard work and persistence today I hold two degrees. Kids need to realise that no matter how difficult it is, they need to keep on working hard. We are faced with a lot of challenges but to succeed we need to prioritise education, live healthy lifestyles and take care of our environment not only for us but for future generations too," Jardine advised.
* Melitah Madiba works in the Gauteng Office of the Premier