Supplied by the Department of Social Development
The newly appointed Central Drug Authority (CDA) board has vowed to step up the fight against alcohol and drug abuse.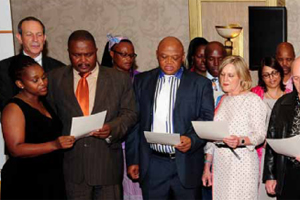 The CDA board will serve a five-year term, advising Social Development Minister Bathabile Dlamini on how to prevent, fight and treat drug abuse.
The board is tasked with carrying out the National Drug Master Plan (NDMP) of 2013 to 2017.
The NDMP serves as the country's blueprint for preventing and reducing alcohol and substance abuse, the Minister said.
With the focus on prevention, the plan encourages collective, balanced, and researched interventions to inform policy and programmes.
Announcing the new board recently, Minister Dlamini said alcohol and substance abuse led to many social problems and that coordinated, ongoing efforts by all sectors of society were needed to deal with it.
"If we are to conquer this war, it will not be as a result of government action alone, but it will occur as a result of a coordinated national effort," she pointed out.
The new CDA board consists of representatives from government departments, educational institutions and non-profit organisations.
Mokgotsi Kalaeamodimo, the newly appointed chairman of the board, vowed to fight the scourge of drug and alcohol abuse.
"Alcohol and substance abuse is a big problem for the whole world and we will make sure that all initiatives that have proven successful in the fight against substance abuse are supported."
Kalaeamodimo has previously worked for the Department of Social Development as a director in substance abuse, the Department of Correctional Services in research and development and the Department of Justice and Constitutional Development in policy research and coordination.
Other members of the board are Peter Ucko, Professor Dan Stein, Angela Salter, Moses Gama, Hendrick Kruger, Collen Mpyane, Dr Eva Manyedi, Lethiwe Ndlovu, Carol du Toit, Dr Lee Rocha-Silva, Ray Eberlein, Johlene Ntwane, Jeffrey Nkosi, Mbusi, Dr Sadhna Panday, Peter Posthumus and Phezi Mabuza.
Nthabiseng Malefane, Frank Ledimo, Nomfundo Mahlangeni, Sesi Mahlobongwane, Mpho Nche, Susan Pienaar, Pelmos Mashabela, Sello Malaka, Sifiso Pakade, Prof Shabir Banoo, Hajira Skaal and Professor Tim Noakes are also on the board.
Minister Dlamini said the role of the board included advising government on emerging trends in alcohol and substance abuse, effective research and advice on prevention programmes.