Written by Noluthando Mkhize
Dutywa resident Vuyiseka Mboxela is gaining valuable experience in the media and communications field after earning herself an internship with the Eastern Cape Department of Transport.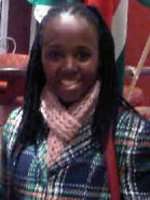 The 28-year-old had been unemployed since she graduated from the University of Fort Hare with an Honours degree in Communications in 2011.
But now she is being exposed to the working world as an intern in the department's communications directorate at the head office in King William's Town.
"It was hard looking for a job after completing my studies. I am very grateful to have received this opportunity in the Public Sector. This opportunity will help me enhance my skills and understand how the Public Sector functions. It will also enable me to interact with different people and to inform my community on how government works," said Mboxela.
Her internship started at the beginning of April after Transport MEC Thandiswa Marawu announced that 84 new interns would be placed in the department to gain work experience and address the skills shortage.
The interns have been placed in the department's district offices across the province. Mboxela added that the internship would boost her confidence, giving her the opportunity to apply all the theory she had learnt at university.
"An internship builds your confidence on how to apply what you have learnt at school. It's not only about the skills but also about knowing and understanding what your career entails," she pointed out.
The department's human resource director Linda Bovana urged the interns to make the most of the opportunity they had been given. She encouraged them to learn as much as they could during the internship.
The interns will be placed in sections relevant to their qualifications. This includes risk management, finance, human resource, transport administration and licensing, information technology, communications, traffic control and supply chain management.
The internship lasts for a year, during which time interns will be assigned to mentors who will be responsible for coaching them.
The next intake of interns is scheduled to take place after 12 months.
For more information on the internships contact the department's human resource development unit on 043 604 7400 or 0800 644 644.