Written by City of Johannesburg website (www.joburg.org.za)
International relations
The City of Johannesburg, well known for successfully hosting a number of global events, had another feather added to its cap when it was named host of the next C40 Cities Mayors Summit.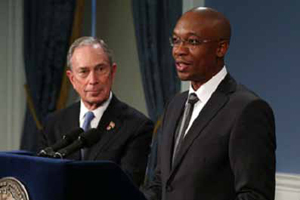 New York City Mayor Michael Bloomberg and Johannesburg Mayor Mpho Parks Tau made the announcement in the US recently. Bloomberg is also the current chairman of the C40 Cities Climate Leadership Group (C40).
Johannesburg was chosen out of 61 cities that make up the group to host the conference in 2014.
C40 is a network of large cities that are committed to putting in place meaningful and sustainable climate-related actions locally to help address climate change globally.
Hundreds of urban and climate change leaders from around the globe will join mayors from the world's largest cities at the summit to advance urban solutions to combat the impact of global climate change.
"Cities around the world – particularly C40 cities – are taking meaningful actions that have quantifiable outcomes. As a result – as our research shows – we are having a real impact on combating the impact of global climate change," Bloomberg said.
"While nations and international bodies meet to talk about these issues, the C40 Cities Mayors Summit is focused on concrete actions we can take to protect the planet and grow our cities," he added.
The summit will feature a series of discussions and working sessions that will bring together C40 mayors, their staff and technical experts to discuss city-driven climate actions and their impact.
Tau described the announcement that the City of Johannesburg would host next year's summit as an historic moment for Johannesburg, South Africa and the African continent. "Hosting the event is a clear recognition of the growing role that Africa and South Africa can play to find solutions to the most pressing issues facing our globe."
Tau said climate change was not an issue that affected only the industrialised countries of the northern hemisphere.
"It is an everyday reality for the people of Africa in rapidly expanding cities, as well as rural areas faced by the consequences of dramatic changes in weather patterns, resulting in threats to crops and livestock and their ability to survive," he pointed out.
Though cities only occupy 2 per cent of the earth's landmass, they contain more than 50 per cent of its population, use two-thirds of its energy and generate more than 70 per cent of its carbon emissions.
Combined, C40 cities have the potential to reduce future emissions by up to 1.3 billion tons by 2030.
The C40 Mayors Summit will focus on how cities are developing and putting in place innovative solutions to some of the most pressing climate and resource issues facing the world today. It will enable mayors to share challenges and successes and identify opportunities for collaboration – all with the goal of making measurable advances on projects in cities that achieve meaningful reductions in emissions.
Johannesburg is one of four African cities that are members of C40. The others are Lagos (Nigeria), Cairo (Egypt) and Addis Ababa (Ethiopia).
The summit in Johannesburg will be held from 4 to 6 February.